Oscar Needs a Home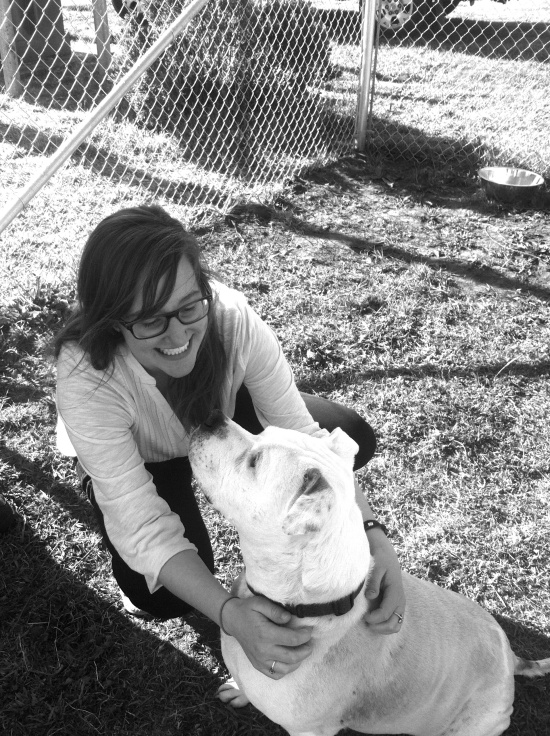 HSU student Emily Taylor hugging her friend Oscar.
UPDATE: Oscar has a home! According to the Humboldt Co. Animal Shelter,
Oscar will be traveling to his new home in Southern Humboldt tomorrow! He'll be joining another HCAS alumnus in a very special home.
Thank you to the SoHum folk who took in special needs dog.
Original post below————–
"I am in LOVE with this dog, and would like more than anything, to share his awesomeness with this county," writes Humboldt State University student Emily Taylor. She knows a special needs dog is not a good choice for everyone but she thinks the right home is waiting for Oscar who is currently at the Humboldt County Animal Shelter. She sent a pleading email to LoCO asking for help
"At 10 years old," she explains, "Oscar has various tumors, eye problems and medical issues that are still unidentified. With medical conditions that hold him back from living comfortably, he still runs around and has a smiling face that cannot be ignored." She knows that are people who are, as she says, "…more than animal lovers and will welcome…dogs in need." But she thinks those special people haven't heard his story yet and she wants LoCO to spread the word.
Taylor has been falling in love with Oscar for awhile. "I bring him gourmet food, treats, and play with him on Tuesdays," she says but adds, "that does not nearly compare to the gift of a family that he deserves…I personally live in an apartment that does not allow dogs, and I am not in a position (as a college student…) to move to a house that is pet friendly at this specific moment (hopefully in the near future)…but this dog, as well as many others in the shelter deserve a chance at a happy life to do what they were born to do, be a companion."
Taylor isn't the only one advocating for the older dog. The Humboldt County Animal Shelter keeps bumping his story to the top of their Facebook page. This Saturday, they're bringing him out to the public in hopes of finding him a home. They stated, "Oscar will be making an appearance and trying to win over that special someone at Humboldt Pet Supply's Grand Opening, this Saturday at 145 South G St. in Arcata. Redwood Pals Rescue will be there from 3 – 6 with Oscar and some of the rescue dogs that have come out of the shelter. Please stop by and support Humboldt Pet Supply and RPR, who will be one of the beneficiaries of the days sales!"
So how about it Humboldt? Anyone have a good home for this guy?