Just Another Bland Day on the North Coast…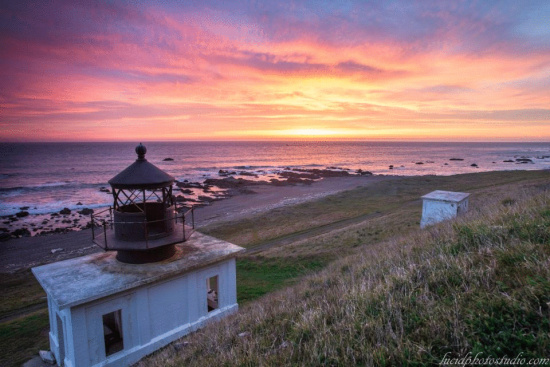 Ryan Johnson of Lucid Photography took this striking photograph above. He explained that the photo was taken on a "gorgeous hike and overnight camping trip, with a moon rise and set as well as this gorgeous sunset. Life is exactly what we make it to be!"
Johnson was featured in an earlier photograph of a historical site on LoCO. It can be viewed here. Or his website can be found here. Or follow Lucid Photography on Facebook here for even more photos.
Johnson came to Humboldt in 2001 to attend CR. Eventually he graduated from HSU. "I've never wanted to leave," he said. He married a woman from Petrolia and enjoys "the whole way of life behind the Redwood Curtain."
Photography he says has "changed the way I look and interact with Humboldt." While many of his shots are taken outside the area, many are quintessentially North Coast. In fact, his photography is printed locally by another photographer. He believes that many people enjoy purchasing something entirely from within Humboldt—from the shot, to the history behind the shot, to the actual printing.
LoCO invites photographers to be part of our regular photo feature. Photographers who wish to have a shot showcased along with a link to their work can submit them to mskymkemp@gmail.com