Fortuna Folk Try to Raise $50,000 to Help One of Their Own Who Needs a New Kidney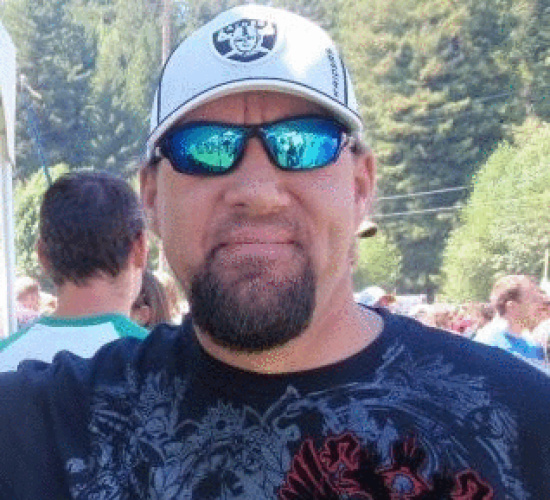 Photo from the King's Ransom Fundraising Page for Jeffery Pratt
"It is like a jail sentence," Jeffery Pratt of Fortuna says of his need for dialysis. Three days a week he must be hooked up to a machine and have his blood cleansed–his blood is pumped out of his body and filtered before being returned to him. This medically necessary situation ties him close to home and keeps him from being able to travel or participate fully in life.
For ten years, Pratt has struggled through the process. He knew that a kidney transplant would help but insurance would only cover so much. Then a dynamo from out of his past reconnected with him. "I hadn't talked with her in 30 years," Pratt explained. The dynamo, Capri Mulder, who now lives in Texas but once lived in Fortuna, soon learned of Pratt's illness. Quickly, she decided that the $50,000 Pratt needed to fill in the amount not covered by insurance for his surgery as well as for medication afterwards could be raised–and she was going to make it happen.
In fact, she decided the entire amount could be raised in just one month–March. Working with King's Ransom, a non-profit, Mulder started a fundraising page for Pratt. Friends and family from Fortuna as well as strangers across the nation have responded by donating money. Mulder says that "a whole army of people" are working to help Pratt get his new kidney. As of this morning, $34,400 has been pledged. By 1:30 this afternoon, there was $35,000. The money is mounting incredibly swiftly.
Pratt says that Mulder and his "best friend," Darren Kanen, and many others have stepped forward and helped with this fundraiser. There is a raffle with prizes ranging from cords of firewood to sheepskin rugs. Tickets can be purchased at Grundman's in Rio Dell as well as Ace Hardware, Wildwood Saw and J&K Automotive. There is even a Facebook page dedicated to helping Pratt.
But, still there are only four days left in March to raise the remaining $15,000. Mulder, who has been donating a portion of her home-based business to Pratt, doesn't seem concerned. She says that Fortuna residents have a big fundraiser scheduled for tomorrow, March 28th, at Applebee's in Eureka at 5 P.M.–a potion of the proceeds will go to Pratt. Mulder also believes people will dig down deep to support her childhood friend even if they don't go to the Applebee's event.
After watching the amount of money flow in this last month, Pratt agrees. He says, "Capri can manage to do anything." He says that Fortuna High graduates have been pitching in with money and with time to help, too.
Even if the whole amount isn't raised by April, Pratt is a lot closer to his goal of getting a new kidney and, finally being able to take his kids on a vacation and spend time with them. "It doesn't matter where," he says. "I just want to go."