Cave Leads to Stash of Weapons in Ryan Floyd Case
Two officers inspect a cache of guns in a secret cave. (all photos–many more below–from Humboldt Co. Sheriff's Dept.)
Stolen goods and guns, guns, guns!
Humboldt Co. Sheriff's Dept. Press Release:
On 1-12-2013, 2-12-2013, approximately 9:00 a.m. Humboldt County Sheriff's Deputies and California Highway Patrol Officers returned to 500 Flint Rock Road, Garberville. Deputies obtained a Humboldt County Superior Court search warrant for the residence and property after receiving new information from citizens about possible additional stolen property in the residence and on the property. When the deputies arrived they located Deanna McDonald, 33 years old and her two small children at the residence. Deputies searched McDonalds vehicle parked at the residence and found a loaded .45 caliber semi-automatic handgun. McDonald was issued a notice to appear for possession of a loaded weapon by a prohibited person and released at the scene to care for her two small children, one which was an infant.

Deputies searched the residence and located stolen jewelry that had been reported stolen in a residential burglary of a nearby residence. Deputies also located a stolen new UTV Kabota Tractor on the property along with a stolen concrete cutter, air compressor and what is believed to be numerous stolen chainsaws. Many of these items were reported stolen from local residences in the Eel River Valley, Dyerville and Highway 36 areas.

Deputies continued the search for a cache of firearms they believed was stashed somewhere on the property. This was based on the numerous empty gun cases they found during earlier searches. During the search of the 55 acre property an alert deputy located a cave in some rocks that was covered with brush. Upon further investigation the deputy discovered the cave was filled with numerous firearms. Deputies recovered 100 weapons on the property, 99 of which were in that cave. Of the weapons recovered at least 20 are confirmed as stolen. Deputies recovered a fully automatic MG 42 caliber WW II Machine gun that is belt fed with a belt full of ammunition. In the weapons cache were numerous assault weapons including SKS, Colt AR-15's, sawed off shotguns with pistol grips and Tech Nine assault weapons. Several of the assault weapons are to believed to be fully automatic. Many of the weapons were loaded.

Deputies are continuing to try to determine what is and what is not reported as stolen property. Citizens that are missing property, especially a firearm that live in the area of Flint Rock may E-mail Sheriff's Property technician Ryan Chamberlain at Rchamberlain@co.humboldt.ca.us.

This is an ongoing investigation. Additional charges against Ryan Floyd will be sought.
—————————-
More jaw-dropping gun photos and more below the fold…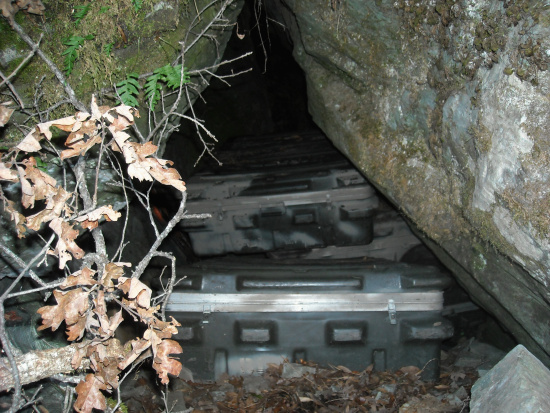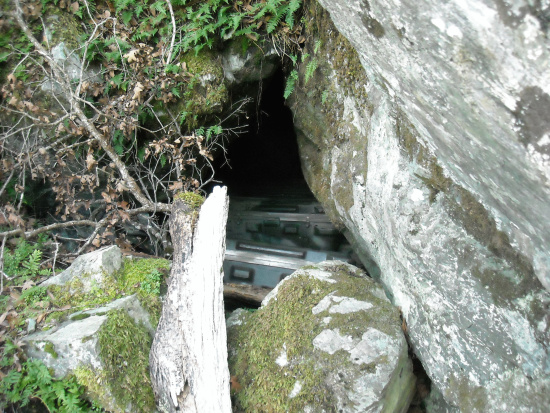 Abe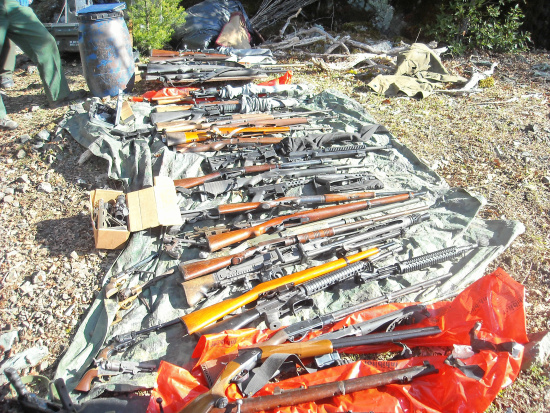 Many of the guns seized including MG42 which is 6th from the bottom of photo right above bright golden. Four above it is a possible submachine gun.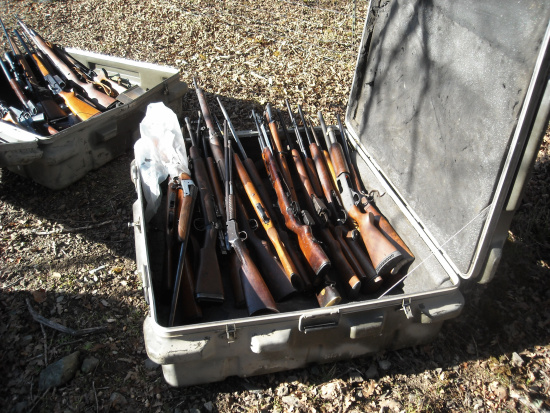 The upper case has at least one assault rifle. Most in the second case appear to be standard hunting weapons. But there are at least 4 common surplus military pieces–WWII era bolt action infantry rifles.
AR assault rifle set up as a sniper rifle or long range shooting. Shotgun on the right.