Humboldt Man Arrested for Threats in Spy Rock School Lockdown Case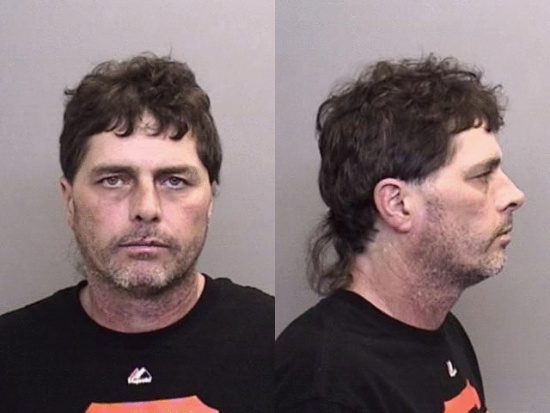 Mendocino County Sheriff booking photos of Kevin Foster
As posted last Friday on LoCO, a Humboldt Co. man, Kevin Foster, was wanted for allegedly making threats that resulted in the lockdown of Spy Rock School in Mendocino. Foster, age 45 of Fortuna, was arrested yesterday.
According to Lt. Greg VanPatten of the Mendocino Co. Sheriff's Dept., Foster appears to have turned himself in and has been currently released on a $20,000 bail.
VanPatten was also able to give some more details about the original situation. He said that on January 19th, Foster's dog was shot while allegedly in the act of chasing chickens on the property of the victim of the threats (Tim Henry.) Wounded, the dog returned towards home. Mr. Henry followed it and informed the people there what had happened. Foster then took his dog to a vet's office where it died.
According to VanPatten, Foster subsequently made multiple threats to Henry by text and by voice mail. Eventually, on January 23rd, Foster made a call to Spy Rock school that was answered by a student helping out. Mr. Foster is then alleged to have made statements to the student that resulted in the school being locked down until law enforcement determined that Foster was in Humboldt County and not in the vicinity of the school. VanPatten says that the "totality" of the threats were what led to a warrant being issued for Foster's arrest.