Hwy 162 Roadway Collapse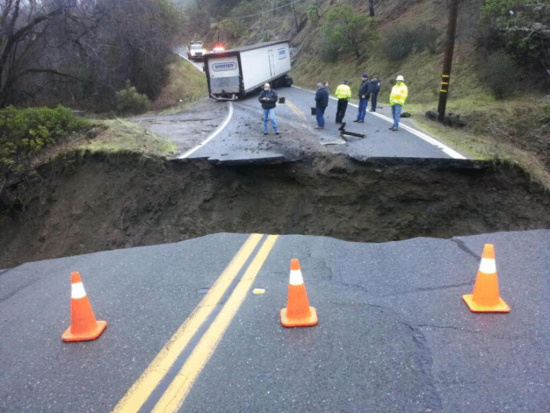 Highway 162 (Covelo Road)
UPDATE 12/24: Caltrans reports that Route 162 in Mendocino County has been reopened to one-way controlled traffic.
From Mendocino County Sheriff (see also CHP report)
FROM OES: Highway 162 (Covelo Road) at Mile Marker 1.1.

Highway 162 is closed at this location. It appears storm run off plugged a drain pipe under the highway, causing the water to flow over the highway eroding the roadway. The damage is approximately 20 feet wide by 30 feet deep, taking out both the east bound and west bound lanes. A semi tractor trailer had made it almost across the area when the road gave way. The rear axles of the trailer fell into the hole and were ripped from the truck. There is no hazardous materials issue at this time.

Cal Trans is working with the County Dept. of Transportation to assess the damage. They are considering a temporary, one lane bridge, as an option to open the road. This is a tentative solution at this point and, if it can be safely accomplished the early estimate or road opening would be later tonight or tomorrow.

There is an alternate route of Laytonville/Dos Rios Road which is a single lane dirt road leading between Laytonville and Dos Rios where traffic can then come back onto Highway 162.