A New HSU Institute Explores Cannabis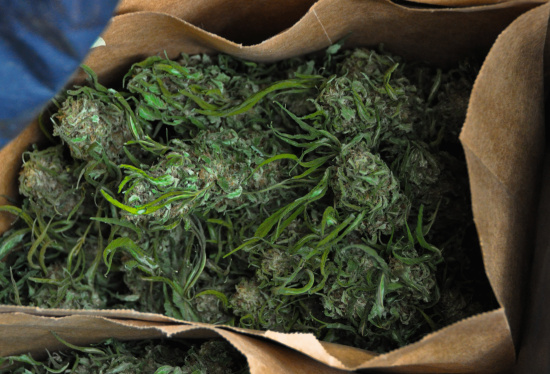 A bag of dried cannabis ready for storage and manicuring at a later date
A few faculty at Humboldt State University set about creating a "national center for interdisciplinary research on marijuana" in spring of 2011. As harvest 2012 dries in barns and backrooms across the Emerald Triangle, this fledgeling organization begins to spread its wings and see what kind of bird it will be. The Humboldt Institute for Interdisciplinary Marijuana Research offers both a lecture and a symposium this coming week.
On Monday, Oct 8th, Dominic Corva, a public policy analyst, will "discuss the political economy of policing southern Humboldt's cannabis agriculture" (see here for details.)
Corva will examine southern Humboldt's policing experience by talking about California's Campaign Against Marijuana Planting (CAMP.) Titled "Requiem for CAMP: Post-Mortem for a Drug War Institution," Corva's lecture offers a window into CAMP's legacy for future illicit cannabis production.
The symposium begins next Friday and includes panelists like Humboldt County Sheriff Mike Downey, Humboldt County District Attorney Paul Gallegos and Mark Lovelace, Humboldt County District 3 Supervisor, as well as representatives from local environmental organizations, a senor biologist from Fish and Game, and community members known for their work in this area. Entitled Environmental Challenges of Marijuana Agriculture in the Age of Prohibition, the symposium is free and open to all.
The two-part symposium (see details here) will attempt to address the environmental impacts of marijuana cultivation. Panelists will review the impacts of marijuana agriculture and offer insights into the opportunities and challenges involved in addressing these problems.
I wonder how many of the farmers will be able to attend in this their busiest season.