Trimmers and Harvesters! Oh, My!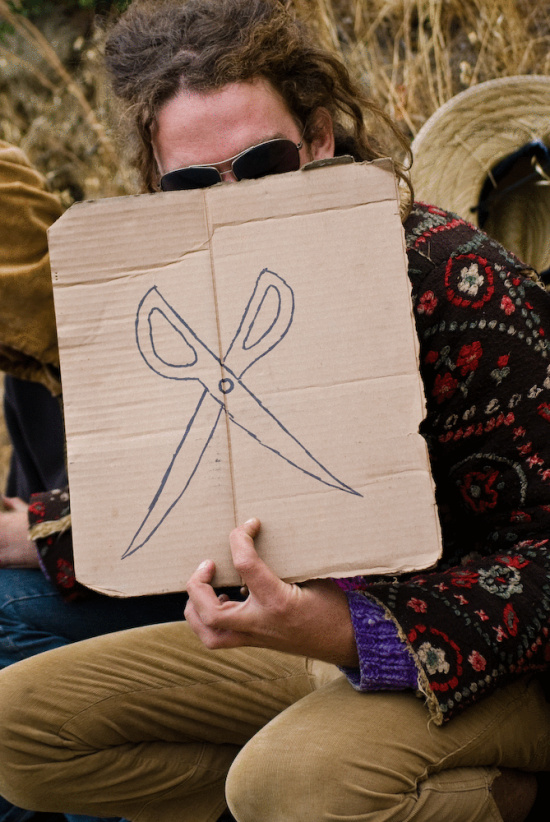 Trimmer looking for work –Photo taken in 2008
Marvel at Humboldt, a land that time and common sense forgot, a place where apparently some folk don't mind inviting strangers into their homes to provide an illegal service involving garbage bags full of a high dollar product. Yep, every year at this time, growers start getting desperate for people to bring in the harvest and clip it up. As more pot is being grown now, the search for trimmers has only gotten more desperate than it was twenty years ago.
People from out of the area travel here hoping to be hired for those lucrative clipping jobs. But how can grower and trimmer hook up? Word of mouth and friends of friends are traditional connections. Some manicurists, like in the photo above, hang out on street corners hoping for someone to open a car door. (Their mothers would have heart attacks if they knew.) But, for the last few years, Craigslist has been providing a meeting place. Travelers and locals alike have started advertising their services as weed trimmers. (And, an occasional grower will provide notice of employment.)
Many of the workers are young and ready for adventure but others are just looking to make some extra bucks because like this "experienced clipper" says, "Christmas is just around the corner and i got a long list from the kids."
People come from all over the world and the popular Craigslist helps them hook up with employers. An ad placed today notes, "We are french travellers in Cali. We are currently in Arcata for you know why we mean.
We are good looking and easy going. Moreover, we have a tent. READY TO TRIM as long as you need ;-)."
Of course, people come from closer at hand. This ad brags that the "two experienced trimmers" shown below (yep, they posted their photo) are California locals.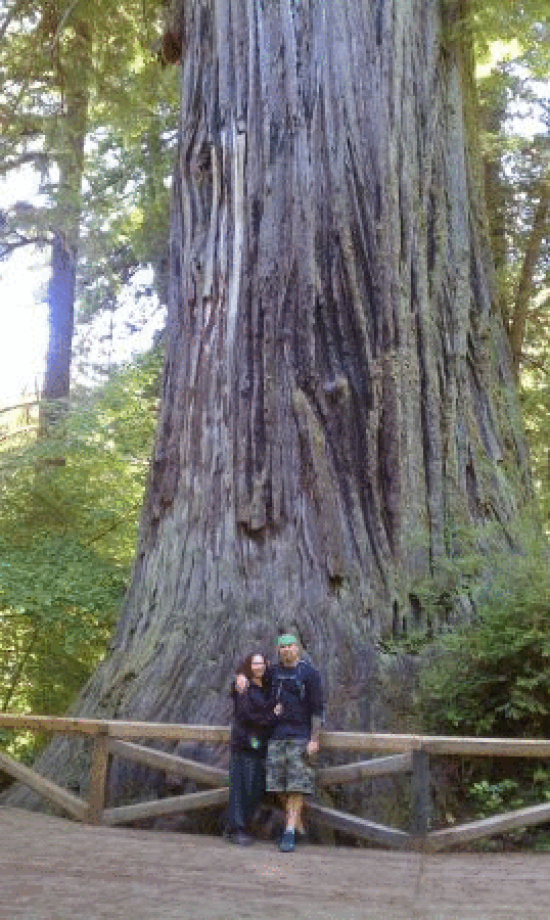 Apparently privacy and legal issues are low on the list of concerns for many of the workers. Photos are practically common. The cheery photo below of a group of trimmers, "5 girls and a guy," that are "…looking for extra work trimming over the season" accompanies an ad explaining, "We are a awesome group and looking for a great farm to spend the trimming season. The girls will cook play music and have a light brought to your farm that will shine to the stars. We will bring in alot of love and will work hard." (Apparently, the guy will just come along for the ride.)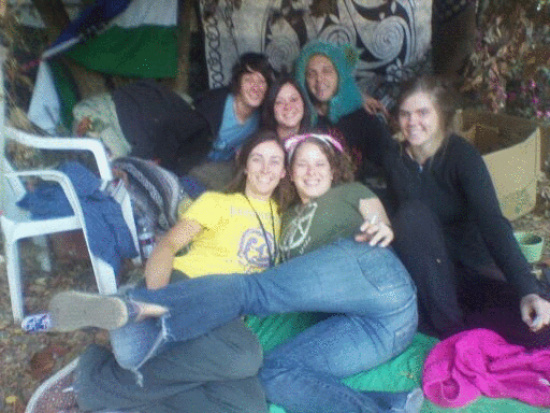 Sometimes the young workers look like they are offering more than trim work. Some advertise themselves as "easy on the eye." A special sub-genre labels themselves "trim boys" or a similar name and some proffer photos that seem an unlikely choice to advertise their capabilities as farm workers and more like they are looking for lovers such as this young bare-chested fellow below.
Apparently the competition for these jobs can be fierce as the list of services that the ads offer along with trimming can be startling. The long hours of hunching over tables snipping herb can lead to aching backs and some of the trimmers proudly proclaim that they can help because they are "certified massage therapists." Others know that extra hands need feeding and proclaim their cooking abilities as well as offer to clean house or provide help "making products."
Now mind you, growers don't have to settle for inexperienced trim hands. Most of the ads tout the workers previous experience, some offer references, and one father/son team even proclaims that the father has a "horticultural degree" and the son has "10 years experience with plants and all associated systems and applications." In fact, they have experience "w/ many OG, all kush (bubba, master, hindu, blackberry cherry pie etc) and many sativa (cheese, sour d, headband, GC, etc.)"
Nor, apparently do growers have to pay the $150 to $250 per pound that is the going rate for manicurists hired through normal channels. Some trimmers offer to work for as little as $10 per hour. One is even willing to "work for trim." The ad promises, "…Keep your bud AND your money… ."
Yet, with this Craigslist cornucopia of workers overflowing into Humboldt, I still heard the rumor that one of SoHum's grocery store managers was furious because a grower came into the store and hired three of his clerks on the spot… .
———————
Both trimmers and growers need to remember the Humboldt County Sheriff's Department's safety tips.
For trimmers:
Travelers need to know who is employing them.
Tell someone where they will be and who they will be with.
Bring a cellphone though remember that not everywhere gets service.
Let your employer know that you told a friend where you are.
For growers:
DO

NOT

hire anyone that you do not know or trust.
Hire locals.
Ask for

ID

, take down phone numbers and permanent address information.
Check references.
Have some background on who you are hiring.
Do not show, flash or have about large sums of money.
Let employees know that other people know who they are.