Summer Series: Exploring Humboldt with Kids
School is out and, if you're like me, you're vowing to spend lots of fun time with your kids. Over the summer, I plan on taking my son and the neighborhood crew to explore our community. I'll take some photos and tell you about what we liked and what we didn't like. Hopefully, this will give you some ideas for your own adventures.
First Day: Looking for Bigfoot, Driving through a Tree, and Eating Out
Nothing gets a batch of boys and girls excited about a hike in the woods like the thought of seeing Bigfoot. Now it just so happened that at the Salmon Creek Exit south of Myers Flat is a place where Bigfoot has been sighted, not once but twice. And two other sightings happened nearby. After regaling the neighborhood kids with the tale, we drove to the Salmon Creek exit and set off west of the freeway, headed north along the old county road which has been gated off since the mid-nineties. Sadly, there was a lot of trash in the creepy area where we parked but the walk was lovely. The old asphalt was partially covered in thick green moss and leafy debris. Vegetation was lush and thick though Highway 101 could occasionally be glimpsed off to the side.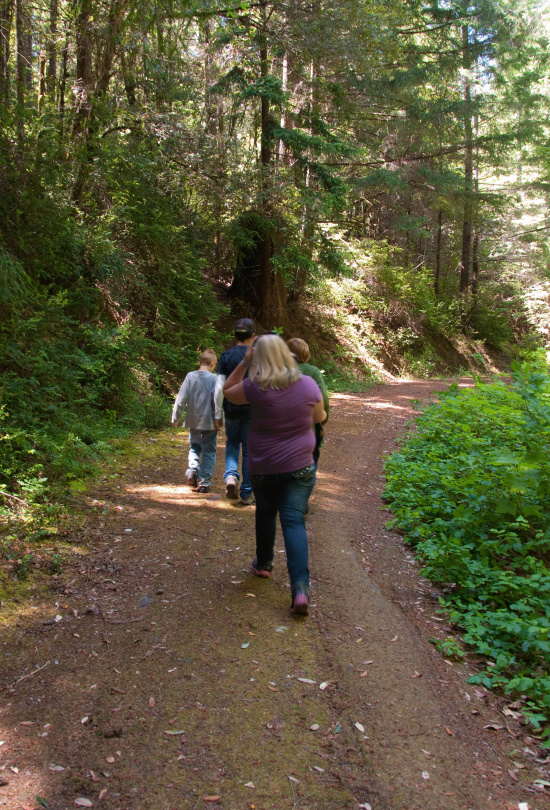 There were salmon berries and huckleberries (though they weren't ripe) hanging into the path. After about a half mile, we stumbled upon an ugly pile of trash, probably an old homeless camp. This wasn't quite Bigfoot but it took the quest for wild adventure right out of us.
We headed back to the car and zipped up 101 to Myers Flat. At the far northern end, we handed over $6 and rolled my medium sized pickup truck into the Drive Thru Tree. There we followed the curving lane up to a large redwood with a natural opening which had been enlarged to allow a car to squeak through. It was a tight fit (part of the charm for squealing kids is whether Mom can make it through without scraping her paint job.) We had to fold in the mirrors and suck in our stomachs to get through (okay, that last didn't really help but it was fun anyway.)
We felt like we were seeing the world when a car full of tourists from an exotic place followed us through the tunnel and piled out to take photos of each other wearing colorful tunics and beauty marks on their foreheads.
This little tourist attraction is well worth the money for pre-teens as it has quirky tree houses to crawl around in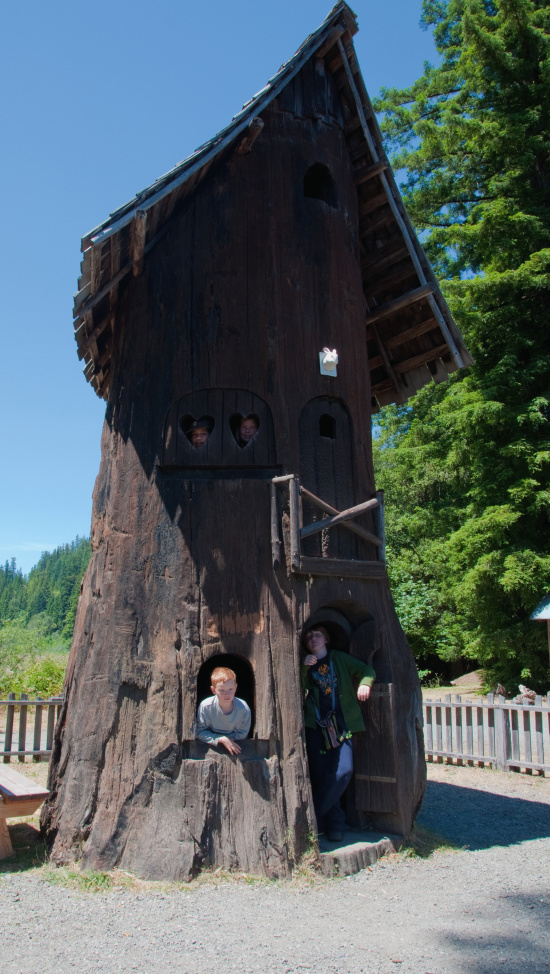 as well as stumps, logs, trees etc. to crawl on, around, through, and under. (For a lovely photo opportunity–let your kids climb on top of the Children's Step Through Tree. Slip through the entrance to the middle and photo them looking down at you. See the top of this post for the photo I took. Another photo opportunity is to stand on the outside of the stump, and take shots of them resting their arms on the top like the one of my son below.)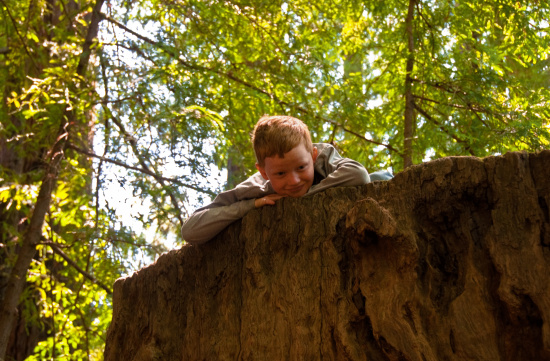 We spent at least an hour savoring every little corner of this charming mixture of nature and man-made fixtures. The kids had a blast and so did I. This is a perfect spot for the non-adventurous. Everything is safe and clean. There are picnic tables and gift shop for those so inclined. For those craving a visit with nature and the redwoods, a hike in one of the parks would be a better fit.
After this little tourist stop, we headed to The Chimney Tree near the south end of the Avenue of the Giants for their famous milkshakes and burgers. The kids gobbled them up and I taste tested. Most items were good to very good. The milkshakes were delicious. The grilled cheese sandwiches were made with real cheddar and cooked to golden perfection. The chicken fingers while made from solid breast pieces were slightly overcooked. Some of the french fries while crispy were a little cool when served but as the little cafe was packed with diners, it wasn't surprising that perfection was difficult. The servings were very generous and the kids loved the free lemonade refills (that tasted of real lemons.) They also loved romping through the hollowed out tree and around the outside picnic tables while they waited. The servers were helpful and cheerfully searched the yard to bring us our meals. Meal for 4 plus shakes– around $50.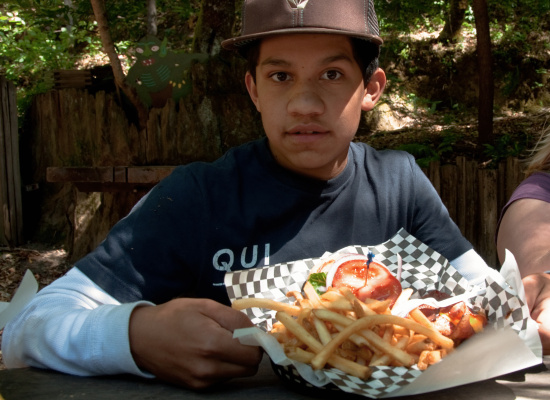 All in all our first excursion was a success. We didn't see Bigfoot but we did find a lovely lily.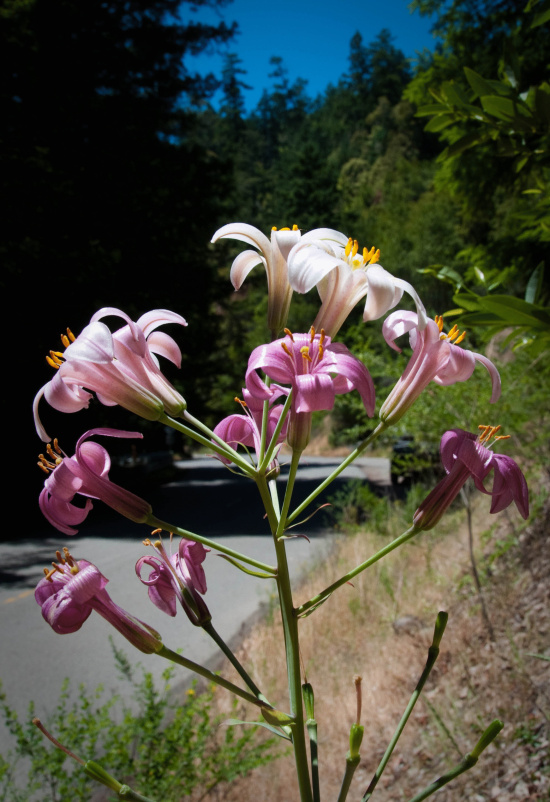 And each of the kids at one point in the trip looked around with a happy sigh to say, "This is a nice day."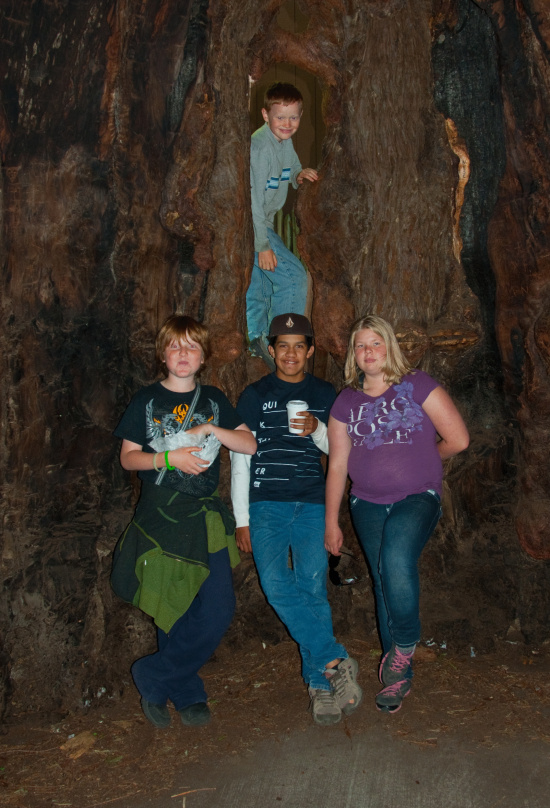 Thanks to (in front from left to right) Jonathan Archibold, Lenin Norris, Alisha Homewood, and my little guy, Malachi Church in the back for sharing your adventures with me. I'm looking forward to the next ones. (Photo taken inside the Chimney Tree.)