Pictures from this Weekend's Daring Rescue of Three Hikers and Their Two Dogs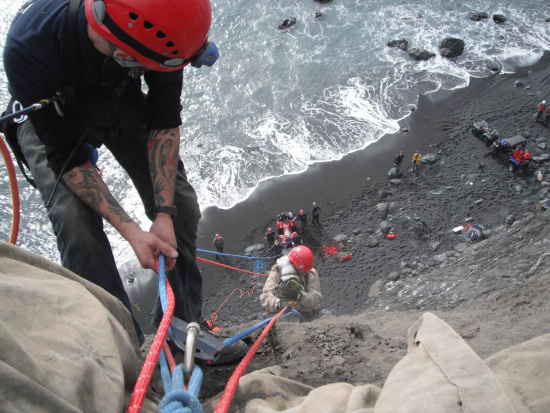 One of the hikers and his dog being rappelled to safety as a rescue worker guides the operation while a medical team waits below.
UPDATE 2:15 P.M.: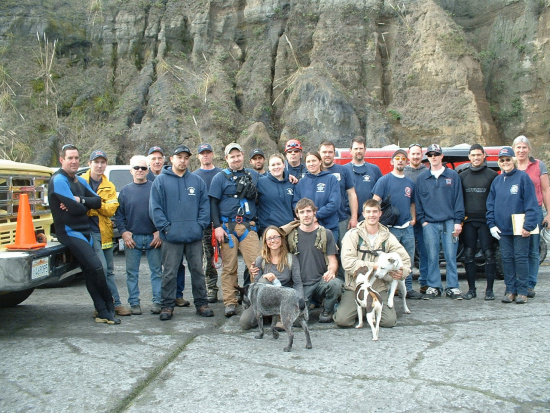 The three hikers in front with their dogs and a friend. [Photo from the Humboldt Co. Sheriff Dept.]
UPDATE 10:30 A.M.: Below is a video of the team shooting the cord which drew the ropes over No Pass Point.
In what Southern Humboldt Technical Rescue called "our most complex rescue to date," three hikers were rescued from the cliff above No Pass Point south of Shelter Cove. The two men, Pierce Shippam, Timothy Phillips, and one woman, Whitney Hackett, as well as two dogs had hiked down a creek to the ocean.  When the tide started coming in they clambered up the cliff.  They ended up stranded in an area of Pampas grass and using a cell phone to call for help (see more details of the story here.)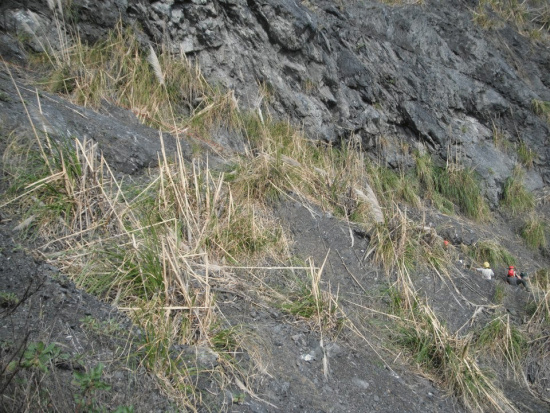 Here is a photo of the area where the hikers had to spend the night on the ledge.
The next morning the rescuers began a complex operation that involved rescue swimmers plunging into the cold waters of Shelter Cove and bring line from one side of No Pass Point to the other.
When the 911 came to the sheriff, the sheriff was in Eureka with an extended travel time so they immediately had Shelter Cove Fire and Southern Humboldt Technical Rescue paged.  Coast Guard was contacted for possible helicopter evacuation. (Later this was determined to be too dangerous because of the possibility of the rotors hitting the cliff.)
According to Diana Totten, "It was after dark…These young hikers had a flashlight. This helped rescuers pinpoint where they were… The ocean was too loud to hear voices so mainly communication was by phone. But the hikers needed to conserve batteries so there was a limited amount of that."
It was dertmined to it was too dangerous to rescue at night.   The rescue crews waited until daylight to make a good assessment.  Totten said that the hikers had to "stay where they were. one slip and you are done for.  People don't understand how rugged it was."
The rescue team talked and came up with a tentative plan.  They had done a rescue there 6 years ago so they had some idea what to do.  After a early morning briefing, the Shelter Cove Fire crew and the  Southern Humboldt Technical Rescue (SHTR) met at the boat ramp with equipment. Shelter Cove Fire team's boat was launched with Chief Auroua Studebaker of (SHTR) to assess the situation.
A plan was put into place. Using ATV's from Shelter Cove Fire team, equipment was shuttled down to No Pass Point. Two rescue swimmers plunged out of a boat and swam ashore through the surf to the south of No Pass Point. Totten said they used a rescue rocket (for the first time) that they had borrowed from a local.  This was a piece of equipment the team didn't have. The rocket carried  a 600 foot parachute cord into the air and over the cliff to the south side of No Pass. The swim team on the south side of No Pass Point pulled the cord attached to heavy climbing ropes over the mountain and anchored them to large rocks on the beach. The rescuers could now ascend to the top of the rock.
The swim was difficult. According to Totten, "Not everybody can be dropped in the ocean to do something like this."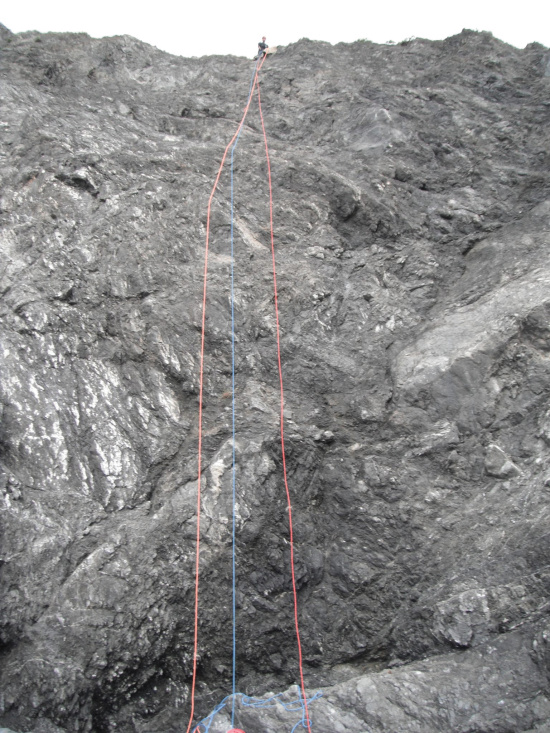 When the rescuers reached the top, they explained how the rescue needed to happen. Luckily, Totten said, "[The hikers] were young and healthy kids. They had a little experience with rock climbing.  It was determined that they would be lowered by themselves. They didn't need to be clipped in to a rescuer."  The rescuers were prepared for every eventuality.  They had special dog harnesses and even dog treats to help make the animals feel they were in the hands of friends. In fact, says Totten, "The dogs seem to understand. Once they were in their harness and tied in to their owners, they were calm.  Not even a whimper."
Then the process of getting the hikers and their dogs down began. Genario Gray, a member of Southern Humboldt Technical Rescue explained the top photo. "[W]e are lowering them down, the crew at the bottom is slowly letting out rope which comes up through the pulley and is attached to a harness on the person and a dog harness on the dog. The red rope also has a pulley and is a second "safety line" connected independently in case anything should happen to the first rope."
The next part was stressful to everyone involved. "The chances of dying was really…This was complicated. It was right at a 10 on a scale of 1-10.  This was over the top. I'm glad I retired. This was way too much," Diana Totten said.  "The last 30 feet, their feet didn't even touch the cliff….At one time, over 1200 feet of rope deployed. There was about 120 feet actual drop."
Totten said the volunteer groups worked together tightly, "Shelter Cove Fire has been awesome.  The rescue team came to support them….There is so much heart in this team. They just want to make our Southern Humboldt a better place. They don't want money."
In fact, she said, "The kids wanted to know how they could pay back but that wasn't what the team was there for. They get gratification from just helping people."  She added that everyone makes mistakes and the team understands that "Did you ever hit your thumb with a hammer or flip over with a car. Whoops that's an accident. Everyone has them."  But because of the coordination of these two teams, she said, "These kids to just walk away from something like that with just scrapes." She added,
There are very few things we have to be perfect with. You can get a B in math and still pass school. You can do 70 on the freeway and not get a ticket. You can just hit the middle of things and life goes ahead. But rescue cases, you can't make a mistake.  Any mistake you make could cost your life and others. In this, everyone has to be perfect.  Everyone is checking every knot and buckle.  Each is checked and double checked.  Not very many things in our lives have the kind of necessity to be perfect as this. That takes each team member. A lot of energy is spent in making each thing perfect. And that takes everyone.  While two pepoole actually made contact with the victims, there were 22 other people backing and working. Everyone takes a huge and important role in techincal rescue.  It is teamwork.
Also, she says it takes the support of the community. "When you see them holding a bucket out, drop a quarter in."