Icy Roads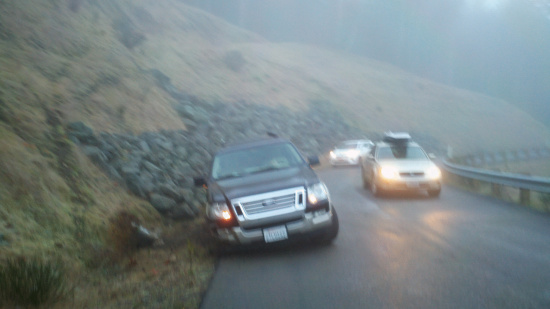 UPDATE 5:29 P.M. : Marty said that he sanded the Thomas Rd. site where the accidents occurred heavily about 3pm. He'll check it again tomorrow morning. Meanwhile, drive slow through there.
UPdate 10:57 A.M.: Marty, from County Roads says that he has been to the Thomas Rd. site and has put up flares and icy signs. He is going to Ferndale to get a vehicle to lay down sand in the area. He should get to it by afternoon. He asks people to slow down over the weekend because weather reports indicate that the temperature will drop down into the twenties for the next few nights. He says that County will be out there sanding over the weekend (thank you!) but people need to be cautious. The Thomas Rd site has had two accidents this morning already and even Marty, with his specially prepared vehicle, slid around some there.
UPDATE 10:29 A.M.: County roads has been putting icy signs out in various areas. They haven't gotten to the Salmon Cr. spot yet which still has reports of black ice and fishtailing cars. Through Monday, the nights should have very low temperatures. Down to 27 some nights. So drive slowly. Be cautious.
The roads have been icy this morning. Be careful. The picture above is of an accident that occurred this morning on Thomas Rd off of Salmon Creek Rd near Miranda. The bridges are icy but this morning the worst area is where the big slide took out the road for a couple months (3895 Thomas Rd).
The County is on their way to sand this area but watch your own roads. Many of them are bad this morning.
The driver is unhurt. But the same can't be said of his car.