Mendocino Makes More Money off Drug Seizures than Last Year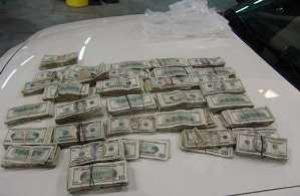 Money and drug related assets seized by Mendocino enforcement is triple what it was this time last year but down from 2009. In the first 6 months of the year $646,000 has been gathered.  This is $200,000 more than in the first 6 months of 2010. In total, last year's take was 1.5 million dollars so the next 6 months are expected to be lucrative but not as much as in 2009 where the amount topped $2.5 million. Most of this money comes from black market marijuana operations.
This money largely stays in the county. According to the Press Democrat, around 25% goes to the state coffers. The Sheriff's office gets around 30% and has most recently been used to save the jobs of deputies. This money also supports a variety of community programs including "Mendocino County Youth Project, Sober Grad nights at the local high schools, anti-drug signage, and an alliance of local volunteers working to reclaim marijuana growing operations uncovered on public lands."
_______________________
Photo from here.