Haunted by the Unseen–Japan's Nuclear Crisis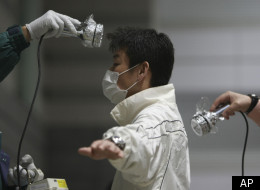 THE cow wasn't quite dead, but it was dying, and no one who knew about its distress cared enough to save it. It lay twitching feebly, alongside the deserted road. There was a bloated corpse in the adjoining field, and two more in the byre of the next door farm. The animal gave out low, rhythmic moans as it struggled to breathe in and out.
They were terrible to hear. What do you do for a cow dying of thirst? I had no idea. The farmer had gone, and there was, in any case, no water in the taps. The man who had brought us to this forbidden place crouched beside it and stroked its head sadly. "It is the same for the people who come from this area," he said. "They may give us food and water, but they don't care about us. They have left us for dead too."
This is the hidden face of the Fukushima crisis
The above comes from Haunted by the Unseen in the Quake's No-go Zone. Published this morning in Australia, it takes you into the zone around Fukushima.  The stark, apocalyptic view of the area will haunt me for the rest of my life. Take two minutes and read it.
Here are more links of interest on the Crisis in Japan:
Greenpeace's monitoring of the situation with regular updates.
Breaking News' live updates on Japan.
"…[R]adioactive water leaking into the sea from a cracked concrete pit at its No.2 reactor in Fukushima. Story and the photo  above from here.
_________________________
Hat tip to Highboltage–A great source of info on Humboldt and beyond.