Southern Humboldt: A Guide for Tourists
Touristing in Southern Humboldt?  What is there to do?  My inbox today had that question from some Canadian folk. With your help, I thought I'd answer. Hopefully,  I'll learn something new, too.
Humboldt is a very unique area no matter when you are here.  There are always things to do but not everybody enjoys those quiet nature adventures I prefer (more on nature activities later.)
Events:
Events  happen all year round.  There are often small town parties like Hot August Days in Phillipsville which can be fun way to see a slice of small town life.  There is also a world renown Reggae event and other concerts, as well as a plethora of fairs, festivals, and rodeos. The best way to keep up with your favorite  activities is The North Coast Journal's Calander of Events. It is heavy on northern Humboldt action but still carries a large amount of Southern Humboldt fun stuff to do. And Northern Humboldt is only about an hour away. You can also search this Southern Humboldt Calendar which I just discovered and it is good, too.
For a good look at our local events see Kim Sallaway's photography.
Places to get Great Food:
Eat at Cecil's–upscale and delicious in Garberville proper.
Eat at the Benbow Inn--lovely old inn, good food/great atmosphere.  The King of Jordan stayed here when he was in town.
Coffee at the Getti-up–especially if you are a single guy.  The servers or "chicks in a box" as they are known locally are  reputedly stunning looking and very sweet.
Paradise Grill is another good food spot–I love their Cobb salads.
The Woodrose –Excellent breakfast and lunch.  Their Lox and onion bagel–mmmmm.
Traditional fare and atmosphere at the Eel River Cafe can be fun, too.
The Riverwood in just a couple miles north in Phillipsville has great Mexican food and a full bar.
More local food links
Places to Stay:
There are plenty of motels but you might want to reserve one if you plan on coming in late as sometimes they do book up.
The Humboldt House Inn is a fine example of a roadside motel–lots of locals stay there when they come out of the hills and want to relax with TV and a tub.  The Sherwood Forest Motel in Garberville is a little less corporate and very charming.  My personal recommendation though is to go to the Miranda Gardens Resort (20 min north of Garberville) and there is a lovely little hotel that is out of the ordinary and the food at the Miranda Cafe across the street is delicious.  The town is tiny and exquisitely situated in the Redwoods.  There is also the lovely Benbow Inn mentioned above.
Camping is amazing here.  Are you looking for a very rural experience?  Or a more convenient one with electric hookups?
My recommendation is that this is a beautiful area– revel in it and camp as rural as you dare.
Just south of the tiny town of Myers Flat is a lovely  area.  Just north of Myers Flat is Burlingame–wonderful redwood camping, long hiking trails, and a tiny little exhibit hall worth an hour or two.   Descriptions of these two places can be found here. If you are in an RV, there is an RV campground in Benbow south of Garberville about a mile.  Richardson Grove State Park also south of Garberville is amazing with great hikes and swim holes.  French's Camp about 2 miles further south is a quaint private campground–though I haven't been there in years.  If you want to really camp, try these places out.
What to Do:
Go to the Redwoods. The Avenue of the Giants is world renown.  Don't miss it.  Take hours and drive awhile, then hike awhile.  Stop at Farmer's stands and small towns.  Walk off the road and take pictures in places that look like dinosaurs still live here.
Swim under the Miranda Bridge or at Womens Federation Park.
Walk around Garberville late in the evening and marvel at the quiet and the friendliness of the folk.  Watch a movie at The Garberville theater (scroll down to see current movies).  It is about 100 years old and being restored.  Have an Ice Cream at Treats and check your email at this WiFi spot. There are several cute gift shops including some with work by local artists and craftspeople.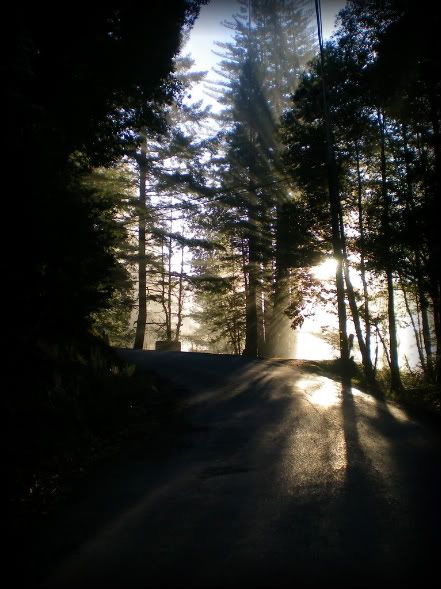 Drive the curving roads that radiate out from Garberville and surrounding areas.  Just remember stop when you see no Trespassing signs.  Locals are friendly until you trespass.
Watch for wildlife.  Deer are common in twilight hours.  Hawks and other birds abound.  Coyotes, bears, bobcats and Mountain lions are rare but there.  If you drive to the coast, you can see whales, seals and tide-pool life.
Farmers Market in Garberville on Friday has the most delicious strawberries ever.
There is a winery in Myers Flat that I haven't been to yet but have heard good things about.
Looking for a bar–try the Riverwood Inn in Phillipsville.  They have a ghost. (they have some great Mexican food, too.  My husband and sons love the burritos.)  Cecil's in Garberville is small and friendly.
Drive out the beautiful road to Shelter Cove and play on the beach.
If you are into the marijuana experience, most people are pretty shy (though not all) and won't cozy up to strangers but some unique stores exist because of the culture–The Hemp Connection sells wonderful hemp clothing.  And Roberto's Tshirts has great Humboldt clothing and gifts.  There is a glass store in town too but I don't remember the name.
RADIO:
For community radio at its best turn to KMUD or for NPR and other wonderful radio experiences go to KHSU. For music to rock your socks check out KSLG
If you have specific questions send them to me. I'll try and answer.
More Links:

Another look at Southern Humboldt
Links from the California Welcome Center on places to see coming or going to So Hum.
Have a blast!