High Times with Humboldt Grow
Photo From Humboldt Grow Magazine
A small but increasingly visible magazine devoted to marijuana began publishing on the North Coast last year. A third issue of Humboldt Grow is due out this month. The major force behind the magazine is a 29 year old from Ukiah, CA and former teaching student at HSU, Eric Sligh. He and two of his friends (who use the aliases Joe Jefe and Jacob Dillion) hope to have the next magazine hot off the presses in time for our traditional Southern Humboldt Reggae festival[s].
Sligh is not confining his energy to one medium. He hopes to join the local news scene with his offering of a new blog also called Humboldt Grow which has only been up and running one day. "My goal," he says, "is to be part of the discourse, to contribute what I can. All of the [blogs] add pieces to the whole story. I want to add what I can."
The edgy yet surprisingly professional magazine published by Sligh had trouble getting printed as several companies had difficulty with its in-your-face photos of growers and their scenes. Nonetheless, the young entrepreneurs have more than financial expansion in mind. Sligh says his magazine and his blog are an attempt to open the dialogue. "I like to see [marijuana] legaliazed–end commerical grows in the National Forests and get it out of residential areas…I'd like to see marijuana regulated and taxed," Sligh says. "I think it could be grown like grapes on 20 to 30 acres…then sold like grapes are to big wineries."
Sligh concedes that Humboldt and Mendocino could face economic difficulty if cannabis is legalized. "The Central Valley agricultural business could take over…but we lose anyway. I'm not walking in the Mendocino National Forest…I'm afraid to."
He believes that because of the expertise in our area many people could carve out a specialty niche for themselves even if the plant was legalized. "I've been talking about growing since I was 12…It's a huge part of our culture." Besides, he adds, "[Legalizing marijuana] is the right thing to do" even if our area has to suffer some economic drawbacks.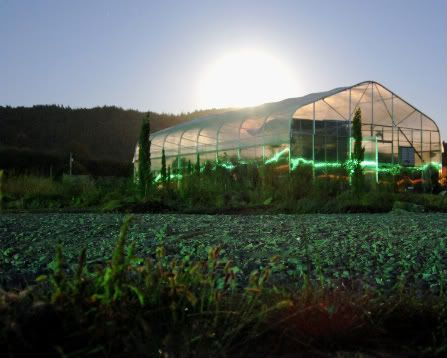 Sligh thinks it is time to start talking about "the herb." Seemingly unafraid of the consequences, he does take some precautions but he says, "[Ours is a] backwoodsy culture where everyone thinks it is cool to be paranoid.…We need to stop lying and talk." His photos bring the readers right into the grow rooms and patches of Humboldt and Mendocino Counties. Articles give information on how to garden and show a colorful variety of the illegal plant. Other stories include growers like the one who allowed pre and post photographs of his just busted scene.
Although the magazine features several growers in astonishingly compromising positions (aliases and false whereabouts are used but many incredibly crisp photos contain full face shots), Sligh says he knows a core group of radical people committed to opening the conversation by allowing themselves and their product to be photographed.
The first issues contain several photos of large indoor grows but Sligh insists that it is " absolutely horrible that marijuana is grown under artificial light. It is insane. Marijuana is awesome outdoor." In future issues, he plans to address diesel spills and damage to neighborhoods.
"I'm not going to lie–a lot of medical [marijuana] is BS," Sligh says explaining that he also plans to address the way the marijuana growers have "gone down the medical route for
awhile–which is great and I don't want to take away from that but there are lies and deceit within the medical argument…There are many healthy 20 year olds brainwashed with the medical thing…They are even changing the lingo." Sligh pauses and drawls sarcastically, "OK, if I medicate here?" He snorts in disbelief. "Let's keep discussing whether marijuana has recreational value. It isn't that different from a beer or a cigarette. I use it recreationally."
The magazine's brilliant photos and insight into the youthful growers' community has captured the attention of Fox News and CNBC. He and his staff refused to have anything to do with Fox but, according to Sligh, he is going to be interviewed by CNBC July 23rd with an episode on the economic impacts of marijuana on the North Coast. The episode is set to be aired sometime this fall.
This isn't their first media exposure either. Cannabis Culture, a well known Canadian publication, featured Humboldt Grow in a five page spread late last year. Since then they have had thousands of hits on their website and have sent their magazine to places as far as Canada, Holland, Spain, and Israel.
————–
All photos courtesy of Eric Sligh