Fundraiser and Memory Maker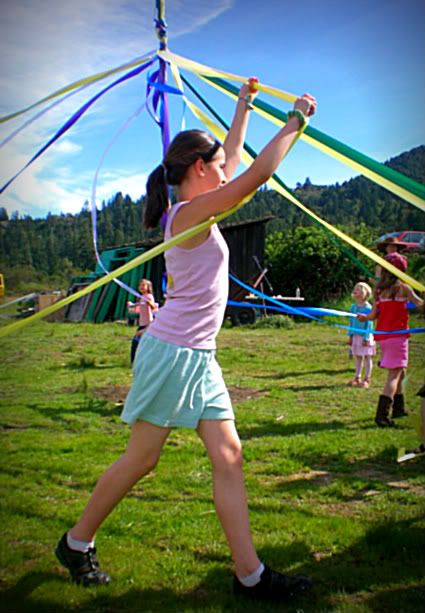 Maypole Maiden
In the country, high in the hills overlooking the Eel River valley, a small school helps support itself with 3 community fundraisers every year. Of course the parents do other things to raise money but 3 times a year they throw a party for their community. In these far flung areas a "neighbor" can be a 30 minute drive away so often these fundraisers provide the only contact some people have with each other. One man as he threw his arm around a woman said, "Heck, I come to the Spring Fling to find out who's made it through the winter."
Rather than fundraisers, these events should be called benefits—they bring not only money to the school but they provide points of warm interaction between differing factions in the community.
Today, the kids put on adorable plays. Watching the great grandmothers and preschool siblings staring wide eyed at the stage I felt the weaving together of time. The memories of the youngest among us will hold those elders with them for another generation.
Kindergartners and grandmothers competed for seats in the cake walk. The Maypole, chopped down by the men in the community, stood in the center of a green field as at least 20 girls and women danced and wove streamers around it. Potluck dishes ranging from chocolate dipped strawberries to deep dish casseroles filled every inch of two tables. Waving trees and blooming roses gathered in pots underneath red and green canopies waiting to be bought and carted home.
Money was indeed made but so were memories.