Eerie Exit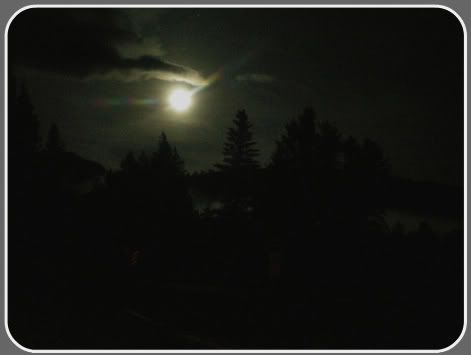 Salmon Cr. Exit at Night
As a society we have a fascination with the ghostly world. The idea that something lurks outside of Real makes the hair stand up on our neck and bumps crawl across the flesh of our upper arms. Even those of us who don't 'really' believe seem fascinated by the possibility. But when we experience first hand something eerie, we tend to move along, get out of there fast.
I don't believe. Mostly. Even though I grew up in a haunted house. Even though I can remember the Grey Lady bumping in her rocking chair. I was just a kid. I believed a lot in those days.
I don't believe in ghosts or spooky spirits anymore. But, there is a place where I don't park my car and meet my mother any more either.
Occasionally, when time was tight on my drive from Eureka to marital arts in Garberville, my mom would drive to the Northern Salmon Creek freeway entrance and pick up my littlest so she could watch him while my older boys and I worked out. One or the other of us would get there first and wait in the dark shaded corner still in sight of the freeway.
For some reason, the area collects trash. Most of our road is nearly pristine but this one pullout close to the freeway, lush with thick trees and primeval ferns, is splattered with the trash of decades. People have tried to clean it up. I have seen orange trash bags stuffed full one day and old tires and newspapers there the next. And, eerily, the refuse never looks new but is always caked with decaying leaves and rotting vegetation.
Still, it was a good cool place to meet on hot summer days. We did this several times. I had a noisy carload of boys. Mom was alone.
I didn't like the place. The pasty streamers of toilet paper slid from beneath decomposing plants. An ancient mattress with rusty stains leered at me from beside a severed stump. No matter how noisy the boys, they always quieted as we sat there. Waiting. The air pushed down hard against the car windows and somehow, no matter how hot, I wasn't comfortable with the glass open. I tamped down those feelings. I tried to ignore them.
But one day Mom said, "Why don't I meet you on the other side, next to the Holmgren Homestead?" Abashed she added, "I know it's silly but I just get the creeps in the other place."
Not long after that, I saw the local rescue squad there. "What's up?"
The leader shook her head and laughed, "Oh, some guy roaming the woods swears he saw a body up there. But after we got out here, he couldn't find it again and neither could we. Probably just smoked too much of his product."
I smiled. Nodded. Maybe. Maybe not.
Nothing happened there to us. No evil spirit showed its severed head. No ghostly apparition intoned hollow voiced warnings to us. But, nonetheless, I'm glad we meet on the other side now.
I'm glad we moved along. I'm glad we got out of there.
And, I wonder if they'll ever find that body.