The Easter Bunny and the Telltale Tuft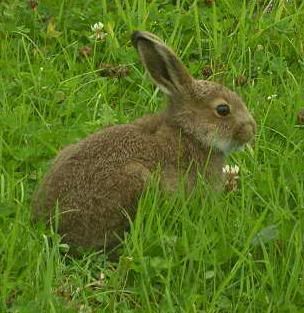 I believed in the Easter Bunny until long after the hardened tough eyed kids in class gave up teasing me and straight out sneered. Partly this is because I'm gullible and partly it's because he's real.
One Christmas, the first whispers spread through our 3rd grade classroom. Mrs. Moultzner, because she had been a teacher since skirts brushed buttonup boots, knew the situation. Ostensibly, she tried to counteract the rumors with worksheets decorated with plump Santas but really her prim lips twitched with cruel satisfaction every time one kid urgently imparted the cold story that our parents were the ones who stuffed the red felt stockings edging the fireplaces and heaters of our little community.
I questioned my folks and, under the spell of cute redheaded Curt Caldwell, even stated that I wasn't sure there was a Santa. This heresy had me nearly in tears as I sullenly let it spill out.
Dad grunted, "Well, let's take down your stocking. I don't think he's gonna bother with giving things to kids who don't believe in him.
Hurridly, I betrayed Curt and came down squarely on the side of Real Santa.
But inside I still wondered.
The night before Christmas, Mom waxed the floors. This was no quick modern squeeze of the bottle and spread with a mop but a laborious daylong backbreaking last century job. The floor shone and my brother and I were threatened within an inch of our lives if we mussed those surfaces. Even my dad when he returned home late from overtime shoveling a muddy slide out of a drainage ditch, had to shiver an extra few minutes in the cold while he unlaced his work boots outside, leaving them damp and dirty on the porch before padding across the linoleum in his wool socks.
That night I lay in bed fretting about the secrets Curt had muttered to me and my friends at recess. I despaired. The usual magic wilted inside and left me aching with the bitter blackness of adult knowledge.
But within moments of waking up, my doubts disappeared. There across the shiny floor were big muddy footprints. Someone, Santa I knew instantly, had come into my room, leaving a trail from down the hallway to beside my bed and a stuffed stocking spilling bright toys and candy onto my blankets. Without even looking at the rare sight of new toys, I leapt up and back tracked the big footprints.
The trail ended at our huge river rock fireplace. I could see where the prints started in the ashes and stomped right over the hearth and onto the shiny floors scattering gray dust and flecks of mud. My brother soon joined me following his own set of prints. Santa had left evidence of his visit in every room but the bathroom. Even the partially eaten plate of cookies on the kitchen counter had a mish mash of prints on the floor around it. Mom heard us and came out into the hall calling, "Merry Christm…." There was a dark silence. Then she stalked up and down complaining, though not as loudly as I would have thought, about how Santa should have wiped his feet first.
That day she had to re-mop the house while my brother and I played with our new treasures. Oddly she hummed, "Here comes Santa Claus," joyously and the whole house basked in her contented work.
Once back at school, however, Curt wrapped me in that wicked redheaded boy magic and I began to wonder if possibly Dad had left the footprints (though I couldn't imagine my ultra clean mom allowing it).
This nibbled at me through the spring and I often tossed the problem at Mom casually when I thought I might surprise her into the truth. Always though, she firmly insisted that Santa had made a mess of her floor and next year she was leaving a note requesting he wipe his feet before leaving the fireplace.
The rumors of the Easter Bunny's origins in parental conspiracy seemed somehow more likely. Why would a bunny leave eggs? If I had been told about an Easter Hen, I think I would have been more likely to believe but a bunny paired with the wicked whispers of a redheaded boy undermined my faith.
The night before Easter I assured my mom and dad when my little brother was out of the room that I knew that the Easter Bunny didn't exist. "We can still pretend for him but I know," I nodded my head wisely.
The next morning, there on my bed was a glorious basket full of ephemeral stuff that my parents would never have spent their hard earned money on—large chocolate bunnies, a big pink stuffed animal, candy, toys. As I gazed on this incredible spread, a breeze blew through the slightly opened window and stirred something caught on the woven basket handle. There, soft and grey, was a tuft of rabbit hair tangled in the wicker.
By fourth grade, all my friends discarded Santa, the Tooth Fairy and the Easter Bunny with hardly a backward glance.
But, at 48, I still leave out my stocking (Why not? Santa fills it). And, though I no longer leave out a basket, every year the Easter Bunny trails a little magical fur over the fields around my house and every kid in the neighborhood knows they can find enough loot to fill up the biggest basket they can bring.
————————————————————————————————-
Tip of the hat to Keri for telling of her sad but true struggle with being the Tooth Fairy.