Humboldt County: The Movie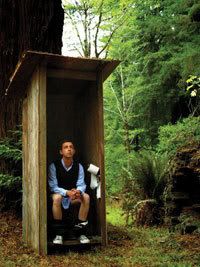 Humboldt County?
For all the aspiring screenwriters who are writing the 'real' story about Humboldt County, your window of opportunity has closed. Someone thinks they've got the big hit here. The film debuted last Friday at SXSW film festival in Austin, TX.
The movie proposes to tell the story of a medical student who "loses his way," comes to Humboldt with a beautiful model, and finds some 'answers.'
I'm reserving judgment until I see the production but, being in love with the area, I do like this quote, ""In the film, the environment of Humboldt serves to seduce the protagonist, to really … bring him into this place emotionally"
One of the two directors supposedly has family in the area. Aunt Laura even has a blog. According to the website, she's a beautiful older lady who has lived here a long time. I don't recognize her, though, she looks vaguely familiar.
Rose left a flabbergasted comment on Aunt Laura's blog so I know she's seen it but, surprisingly, I haven't heard a peep about it until today.
UPDATE: Whoops, North Coast Journal had this and I saw it. I just didn't click the link.  Sorry guys.