Humboldt Bay Nuclear Power Plant: 50 Years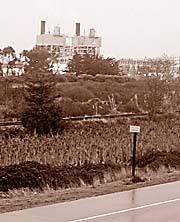 Wondering about people's memories  of our local Nuclear plant–Did anyone work here? March in protests?
Below is a clipping from 50 years ago yesterday when the plant was only a twinkle in someone's eye.
PG&EHead
Reveals Huge
Project Cost
The atomic
power .-plant which Pacific
Gas & Electric Company plans
To :build near Eureka will cost
28 million dollars to build and
operate for four years, according
to PG&E President Norman
R.Sutherland..
He said the 60,000 kilowatt
plant,; whicb.will produce eco
rnornical nuclear electricity, will
be built by BechteI,Corp.
for 20 million dollars. This
compares with 11 million dollars
for a conventional steam
plant.
Uranium to run the plant for
3 1/2 to 4 ½ years will be rented
from the government for five
million dollars, Sutherland told
a press .conference Thursday,
it will cost another three million
dollars to fabricate the
uranium into pellets for the
core of the boiling-water
type reactor furnace.-
Cheaper Than Oil
He said the eight million dollar
cost for fuel is about-half
that of oil used in steam plants,
therefore, costs of building and
operating the nuclear plant
would begin to balance out with
the costs of conventional plants
with the second core or batch
of uranium fuel.
Sutherland said Eureka was
picked for the site of the new
plant because it has moderately
high fuel costs.
 "Oil; for steam 'plants must
be.barged in and it is remote
from our general transmission
system," he said. "Two 100,000
volt lines' are brought 'in 110
miles over the Trinity Mountains
f r o m Lockwood, and
standby facilities must be maintained."
Negotiating for Land
Sutherland said PG&E is negotiating.
to buy land on the
coast near San Francisco for
future construction of a nu
clear plant. He said studies are
continuing, although so far surveys
have indicated that.such a plant would
be competitive with steam and hydro
electric plants.
Asked if he believed the' Eu
reka plant indicated the com
ing obsolescence of steam am
hydroelectric plants, Sutherland
replied: "Emphatically no."
"It may do so. In the Eureka
area," he:said, "but not in our
general system. In fact, we now
have five hydroelectric and
three steam-plants under construction."
Eureka Humboldt Standard
2 21 1958 p9