Tradition: A Fresh Perspective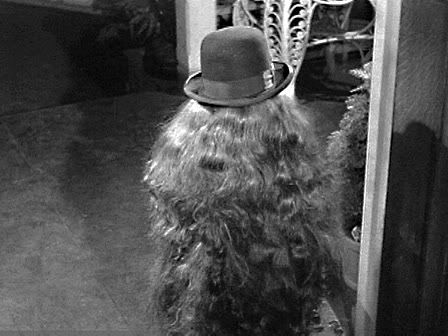 I'm IT! (Actually I look a lot like Cousin It when I get up in the morning).
Apparently, it is a tradition among bloggers to "tag" others with a request to post on a certain theme or respond to questions. Jen, another Humboldt blogger, tagged me.
I might have pretended not to notice such a crass demand (I'm sneaky like that) but, she sold another book today (Yes!) and I'll play along to in honor of her big sale.;>
Holiday Traditions Quiz
1. Eggnog or hot chocolate.
Lets see..hot snot with liquor or delicious Chocolate with creamy milk…Uhh, if you have to ask…
2. Does Santa wrap presents or just put them under the tree?
Santa stuffs stockings. He is a dedicated leg man. And evidently he likes legs a tad bit on the plump side (Stop here and picture the shape of Christmas Stockings! See what I mean?) . Which makes him my kind of guy!
3. Colored or white lights on tree/house?
We don't practice segregation! I'm shocked that you would ask!
4. Do you hang mistletoe?
Wait a minute! We're talking nooses? Just because I allow a little mingling of the lights?
(Besides I prefer wild mistletoe to the dreaded dead parasite hanging in doorways. What kind of symbolism is that anyway? I'll hang a parasite, tie it with a red ribbon, and we'll kiss under it? Yikes! Next people will be gathering ticks and sprinkling them on the couch to encourage making out!)
5. When do you put your decorations up? Varies wildly but, if I hadn't gotten tagged, sometime today.
6. What is your holiday dish (excluding dessert)? Excluding dessert? There is no holiday dish when you exclude dessert. The other stuff is just what you eat to stretch out your stomach so you can eat more dessert.
7. Favorite holiday memory as a child. Opening all the packages in Mom's closet and then pretending I hadn't seen them on Christmas morning—I ended up in tears.
(Why is this my favorite? I love moral stories and I especially love to take them out and threaten my children with them.)

8. When and how did you learn the truth about Santa?
That he adores plump women's feet? Duh…It's obvious when I look at my stuffed stocking.
9. Do you open a gift on Christmas Eve?
Are you kidding? I open a gift whenever I get a chance.
10. How do you decorate your Christmas tree? Very Carefully, I have a lot of sharp glass ornaments useful for kids who do not listen to Mom's moral stories.
11. Snow! Love it or dread it? Depends on whether I'm driving!
12. Can you ice skate? Hey, I'm not vicious. I'll only ice Skate (whoever he is?) if he gets between me and my holiday desserts. But then I might ice Santa himself for that offense!

13. Do you remember your favorite gift? Do I remember? Sheesh! Now he is almost 15 and I'm wondering if I can give him back!

14. What's the most important thing about the holidays for you? Wondering whether I can still fit in my jeans come New Year's Day.
15. What is your favorite holiday dessert? Do you ask mothers which child is their favorite, too? This Quiz is depraved! Get any more personal and I'll think about icing you!
16. What is your favorite holiday tradition? Um, I'm not telling but see number 18 below!
17. What tops your tree?
Nothing tops my tree. It's the best! Well, Mom's might be better but only because I picked it out and helped decorate it! ;>
18. Which do you prefer, giving or receiving?
:Slap!: Enough with the personal questions!
19. What is your favorite Christmas song?
Grandma Got Runover by a Reindeer or Silent Night. I know they aren't compatible but I've a split personality. Santa icing Grandma or a quiet family moment—they both move me—just in different directions.
20. Candy canes.
They're hard, sweet, and sticky—need I say more. But this quiz has gotten way too fresh. No more personal questions!
21. Favorite Christmas movie?
Favorite Christmas movie move? See number 18 but…For the last time, stop being so fresh!
22. What do you leave for Santa?
He's a foot fetishist so I leave stockings like the rest of the world! Sheesh!
That's it! I'm out of here.
So I'm not tagging anyone else in case they are seeking an excuse to avoid decorating (which is criminal) but, if the bug bites… Have at her! ;>