Tales from the Humboldt Hills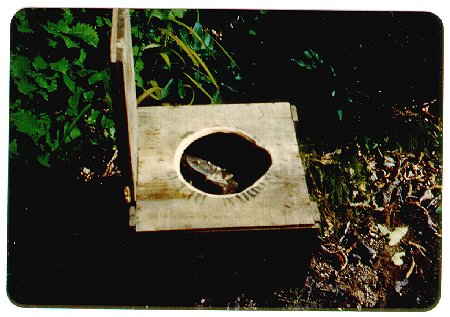 I've heard city people snickering about the old redneck saying that "when it's raining you can't fix the roof and when it ain't raining you don't need to." Well, up here in these Humboldt hills that isn't just a humorous story. If you're a busy country person without anybody to please but yourself, you might go for the easy solution.
According to my neighbor, one morning he was staring gingerly at the ice encrusted toilet seat on the wooden box he called an outhouse and he came up with a bright idea. After finishing his morning business hurriedly and from an awkward squatting position, he unhitched the still frozen seat, brought it into the house and hung it behind the wood stove.
There it dangles, a somewhat odd wreath, waiting for cold mornings, when he just takes it down, scampers out to the toilet, and reattaches the now toasty bun warmer.
Now this doesn't strike me as particularly sanitary but there is a strange appeal to its simplicity.
Photo credit John's Military History