OBITUARY: John Van Meter, 1947-2015
[Submitted to the Outpost by the family of the deceased.]
1947-2015
On January 18, 2015 Johnny Leon VanMeter passed away surrounded by family and close friends. John was born August 29, 1947 in Scotia, California to Sidney and Doris VanMeter. He grew up and lived his adult life in Redway. He attended schools in Garberville, Redway and graduated from South Fork High in 1965. John loved growing up in Redway where he had many childhood friends who remained close throughout the years. He developed a good work ethic early in his life. By the age of 10 he had his own newspaper route and mowed lawns around Redway. His first part time job was for Bushnell Surveying and later while at the age of 15 worked at Chevron gas station in Garberville. John was a Boy Scout in his youth and participated in the order of the Arrow, which he maintained its principles of good stewardship throughout his life.
In 1966 he and one of his childhood friends Robert Barnett joined the United State Marine Corps. He served his county from May 1966, was promoted to Staff Sgt. in 1967, and was honorably discharged in March 1969. A true American Hero he earned several medals: The Silver Star, Good Conduct Medal, National Defense Service Medal, The Purple Heart , Presidential Unit Citation Medal, Meritorious Mast Medal, Vietnamese Cross of Gallantry Medal, The Vietnamese Service Medal, and The Vietnamese Campaign Metal.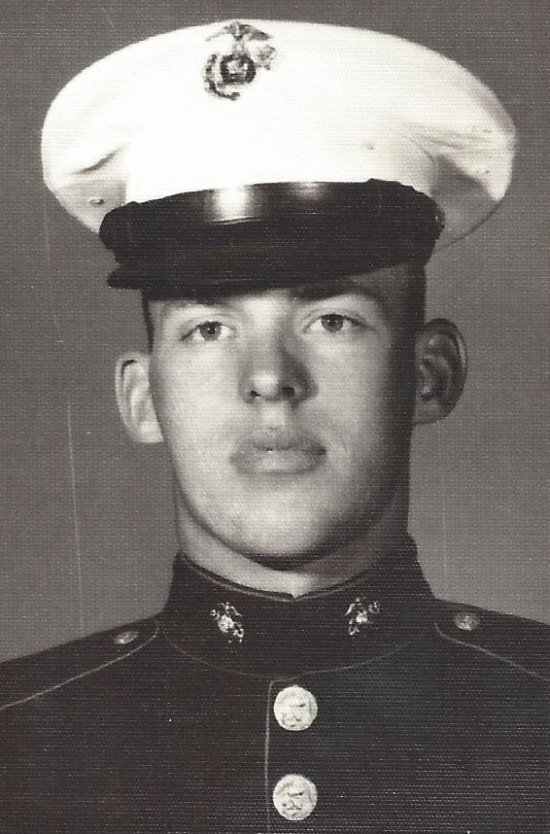 John married his childhood sweetheart Pamela Bowman in 1968 and they lived on the base at the Naval Weapons Station in Concord, California. In 1969 they moved back to Humboldt County where he began his career as an independent logger. His first introduction to logging was a job with his father-in law Casey Bowman. He later formed his own company Van Meter Logging, Inc. in 1971. During his 40 years with the timber industry he formed a unique and close relationship with his good friend and falling contractor Will Edgins.
There wasn't anthing he wouldn't do for his children, Brett and Katherine. He appreciated Brett's wife Suzanne for helping with VanMeter Logging's daily operation and Katherine's husband David for his handy skills. He was enormously proud of their achievements and supported them always. John was extremely proud of his four grandchildren: Konrad, Konstanze, Victoria and Christopher John (C.J.) It didn't make any difference if it was a baseball game, piano recital in Santa Rosa, a soccer or baseball game in Southern Humboldt, John was there. He had the grandchildren's complete interest at heart. After retiring John spent much of his time at his cabin in Eel Rock. He loved to develop his property and plant trees for the next generation. John spent hours in his gardens and orchards, his dog Bullet, always by his side. He and his wife enjoyed taking their four grandchildren on summer trips that took them all over the United States. He looked forward to March each year when the whole family would travel to Scottsdale, Arizona for Spring baseball training.
John had a great commitment to his community. He was a retired Redway Volunteer Fireman, Was a member of the honor guard for the VFW and life time member of the South Fork Booster Club. He was honored to be named the Grand Marshall of the Garberville Rodeo and was honored at the Rhododendron Parade in Eureka. John was instrumental in the development of the Southern Humboldt Little League field. He belonged to the Redwood Regional Logging Conference for years. He helped his wife manage their laundromats, apartments, and was proud of the success of their retail store, the Paper Mill. John had a real commitment to his family. Family meant so much to him. He was proud that he had a large, loving family both immediate and extended. His family was especially supportive during his struggle with cancer. They were always there to help him every step of the way, and he knew he was well loved.
John was preceded in death by his father Sidney VanMeter; mother Doris VanMeter; father- in-law Casey Bowman; mother-in-law Priscilla Bowman. He is survied by his wife and best friend of 47 years Pamela; son, Brett VanMeter and wife Suzanne, their daughter Victoria and son Christopher John (C.J.) of Garberville; daughter Katherine Franco and husband David, their son Konrad, and daughter Konstanze of Santa Rosa. John had five brothers and sisters. Sister, Norma Allman of Fortuna; sister Betty Partain and husband Jerry of Bayside; brother Alvin (Bud) Slagle and wife Dianne of McKinleyville; brother Ronnie VanMeter of Fortuna and brother Timothy VanMeter of Stafford. He is also survived by numerous cousins, neices and nephews; his extended loving family Keith and Trudy Bowman of Piercy, Linda and Ron Presswood of Vancouver, Washington; Sherrie Finney of Las Vegas and Kenneth and Donna Bowman of Miranda.
His family would like to express the deepest gratitude to the San Francisco Fort Miley Hospital. The care and devotion given to him was nothing short of remarkable. All of his doctors, nurses, and assistants were of the most professional and compassionate possible. A special thank you to Erin Bowman, FNP who helped John in his final days. We would like to thank Mt. Zion Hospital, St. Joseph Hospital, and Heart of the Redwoods Hospice (Suzanne & Jill).
A public remembrance will be held in late March at Cook's Valley Park, Piercy.
In lieu of flowers, memorial contributions can be made to the Wounded Warrior Project, South Fork High Booster Club, Heart of the Redwoods Hospice, Redway Volunteer Fire Department.