Man Shoots at Self While Being Followed by CHP Officer
Mendocino County Sheriff's Office press release: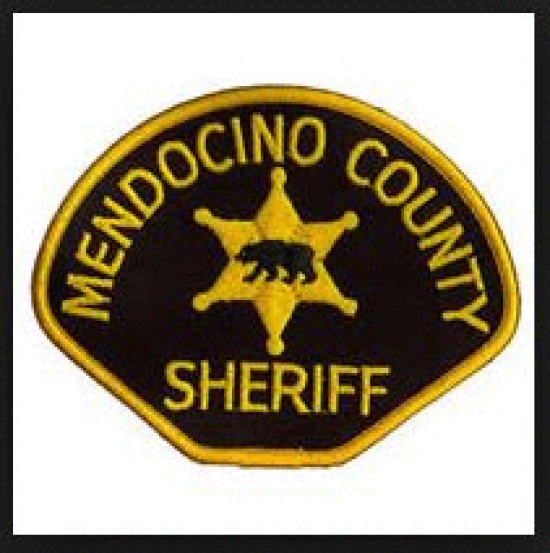 On 11-17-2014 at approximately 10:30 PM Deputies from the Mendocino County Sheriff's Office were dispatched to Taylor's Tavern Bar in Redwood Valley, California regarding a male subject sitting in a gray Toyota Tacoma pickup truck holding a shotgun to his head.

While Deputies were responding they were advised the vehicle left the area and was driving northbound on Highway 101 towards the city of Willits.

The driver of the vehicle was described as being a white male adult, with a shaved head, a goatee beard and in possession of a black colored shotgun.

An officer safety (B.O.L.O) broadcast was sent out to all local public safety agencies including the California Highway Patrol and the Willits Police Department.

A short time later an Officer with the California Highway Patrol (CHP) located a vehicle matching the description of the B.O.L.O vehicle driving northbound on Highway 101 near the White Deer Lodge.

The CHP Officer pulled along side of the vehicle to see if the driver matched the description of B.O.L.O subject.

When the CHP Officer neared the vehicle, the Officer heard what he thought was a gunshot and observed the drivers side window explode outwards.

As the vehicle approached Brown's Corner on the south end of the city of Willits it pulled into the gas station parking lot and stopped.

At that time numerous Officers from the California Highway Patrol, the Willits Police Department and the Mendocino County Sheriff's Office conducted a felony car stop on the vehicle.

The driver and sole occupant, Kevin Bobby Norton, exited the vehicle. Sheriff's Deputies could see that Norton was bleeding from his face and left cheek area.

After Norton was handcuffed and secured, he admitted to Officers that he had intentionally discharged the shotgun at himself while being followed by the CHP Officer.

Norton was transported to Howard Memorial Hospital and treated for a minor gunshot wound to his left cheek area.

Deputies located a loaded sawed off shotgun and a loaded 9mm semi-auto pistol in Norton's vehicle.

Deputies learned Norton was a convicted felon and prohibited from possessing firearms.

Norton was arrested on the listed violations and booked into the Mendocino County Jail where he was to be held in lieu of $25,000.00 bail.