[UPDATE] Know These Guys? Man Allegedly Catches Two Men in His Shop
UPDATE 11/13: One of the suspects has been identified as Douglas Albert Camilli, age 33, of Eureka. Sgt. Ken Swithenbank of the Humboldt County Sheriff's Department said, "We're making headway on identifying the other two subjects." Swithenbank said his phone started ringing not long after this story came out with a name to fit the first photo below.
Camilli has just been released one month ago from the county jail. Follow this link to see an incident he was arrested for in 2012.
UPDATE: Unless something has been taken, the charge will be Illegal Trespass.
Two men were allegedly surprised in a Southern Humboldt workshop at noon on Monday, November 10 by Ben Hass, the building's owner. Hass managed to snap photos of both men and get a license plate photo. The Sheriff's Department is currently on the lookout for the men and would like the public's help in identifying them.
Hass said that he had been working in his shop on Woods Ranch Road a few miles north of Redway when he went down to his home about 350 feet away. Needing a tool about ten minutes later, he returned to the shop. He saw a dark gray 2004 Ford truck extra cab or extended cab pickup backed up to his closed gate. (The gate was posted no trespassing.) Thinking it might be a friend or family member coming to his shop, he went to one of the shop doors and attempted to open it. The door was locked.
Hass said he knew he had left the shop unlocked. Then, he heard a footstep inside. He rushed around to the other door and saw one man coming down from upstairs while a second man was holding the inside knob of the door he had just tried to enter. Both men "bolted" out. Hass followed.
Outside, he realized that the truck had left but was turning around and coming back. Hass took out his phone and photographed the two men who attempted to hide their faces. He also photographed the vehicle as the men jumped into it and "peeled out."
One of the men Hass says he surprised in his shop.
Hass said there have been multiple burglaries or attempted burglaries in the area this last year.
Sgt. Ken Swithenbank of the Humboldt County Sheriff's Department confirmed that deputies were on the lookout for three suspects. He asked if anyone recognizes the men to contact the Sheriff's Department. The number is 707 923-2761.
Below are pictures of two of the suspects. There is no photo of the driver who Hass described as having reddish blond hair and a goatee.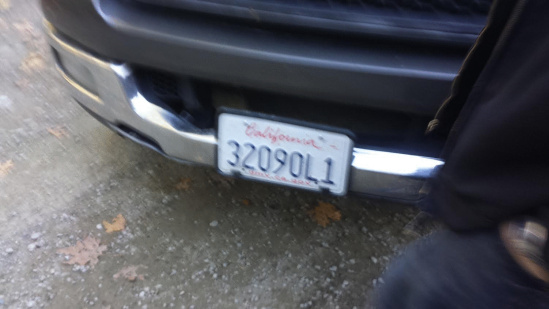 License plate and front bumper of the vehicle.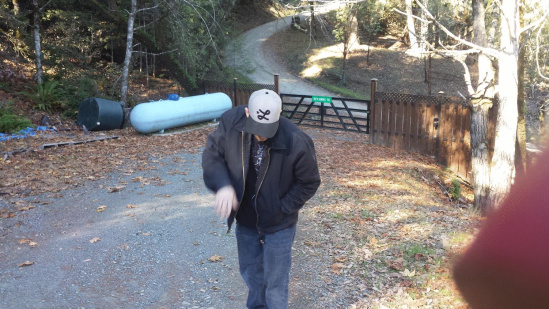 Front view above and back view below (note the tattoo) of one of the men Hass says was in his shop.