Humboldt County Woman Who Crashed With Two Children Off Hwy 1 Earlier This Month Arrested for Attempted Murder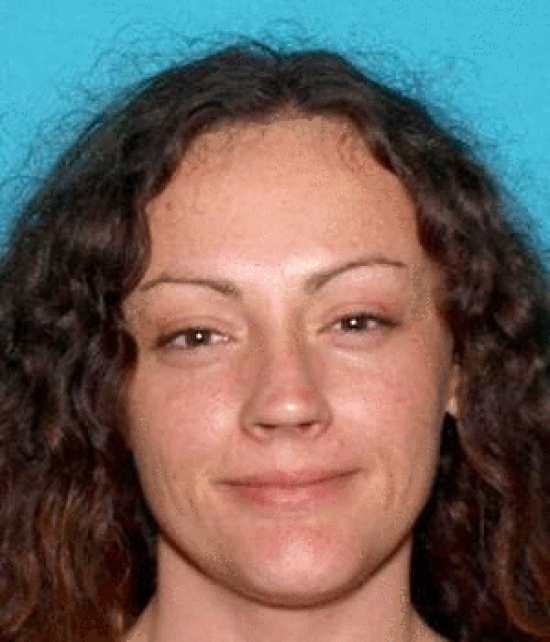 Yesterday, a McKinleyville woman, Athena Renee Doyle (age 35,) was arrested for attempted murder in charges resulting from a traffic collision October 3 off of Hwy 1 north of Fort Bragg. (See press release below.) Doyle was the driver of a 1992 Isuzu Rodeo that crashed with her and her two young sons off a 300 foot cliff in the area. The three weren't found for several hours. In an article earlier this month, a man who found the injured children and their mother described what he saw. The children and their mother were all transported to hospitals to be treated for serious injuries.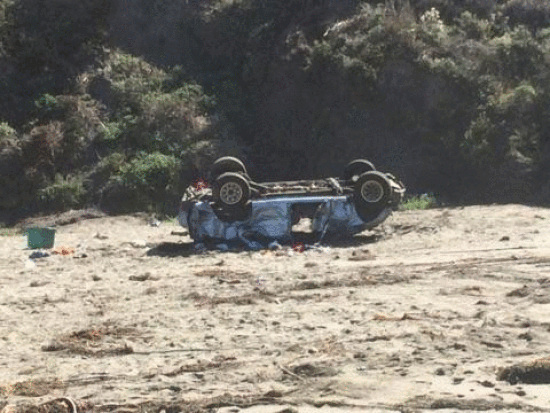 The vehicle after the victims were removed. [Photo by Guy Casey]
Earlier this year, Doyle had been sought by the Humboldt County Sheriff's Department because it was believed that she might harm her sons. In August, the Humboldt County Sheriff's Department issued a press release stating that they were looking for Athena Doyle, and her two children. According to the statement, the woman's mother believed Doyle was having mental health issues. Doyle was contacted by law enforcement and according to the press release, "The deputy determined she was not having any mental health issues."
According to Lt. Steve Knight speaking generally about welfare checks but not this specific case, "When law enforcement contacts someone for a welfare check…[we look for whether] the individual is a danger to themselves, to others…If the person displays none of those criteria, there is nothing [law enforcement] can do."
Evaluating mental health is hard for a trained medical professional and law enforcement officers have little training. Knight said that mental health welfare checks can be "a tough call." Deputies, he said, "make the best judgement they can at the time." He also pointed out that individuals with mental health can seem fine at one moment in time and then "things can change."
According to a witness at the scene of the crash of Hwy 1, one of the children had a broken arm and a broken femur as well as a head injury. The child, the witness said, was injured but didn't appear to be in a lot of pain.
The Mendocino sheriff's Department said that though all three had to be transported to out of the area hospitals they are "expected to survive their injuries."
###
Mendocino County Sheriff's Department press release:
Suspects:
Suspect #1:
Name: Athena Renee Doyle
Age: 35
Address:
City/State: McKinleyville, Ca

On 10-03-2014 at 12:19 PM Deputies from the Mendocino County Sheriff's Office were summoned to the scene of a possible vehicle accident in the 33000 block of North Highway 1 in Westport, California at the request of the California Highway Patrol.

Upon arrival Deputies learned the vehicle, a 1992 Isuzu Rodeo, had travelled off of the roadway of North Highway 1 and down an approximately 300 foot cliff coming to rest on the sands of Chadbourn Gulch/Blues Beach.

The possible vehicle accident was not witnessed and it was suspected the vehicle had been on the beach for several hours before being seen by a passing motorist.

Deputies learned a responding CHP Officer had contacted the driver, Athena Renee Doyle, at the scene and received information that suggested she had intentionally crashed the vehicle.

All occupants of the vehicle were significantly injured during the incident which included Doyle, her 4-year-old son and her 2-year-old son.

All three occupants were transported to an out of county hospital by air ambulance where they were treated and expected to survive their injuries.

Sheriff's Detectives took over the investigation into the incident and later submitted their investigative reports to the Mendocino County District Attorney's Office for review of potential criminal charges.

As a result, on 10-28-2014 a felony arrest warrant ($500,000.00 bail) listing 2 counts of attempted murder was issued for Doyle.

On 10-31-2014 Doyle was arrested in Humboldt County by local law enforcement and subsequently booked into the Humboldt County Jail awaiting extradition back to Mendocino County.
Previously: