Look Out, Toto, High Winds on the Way, Even a 'Slim Chance' of a Tornado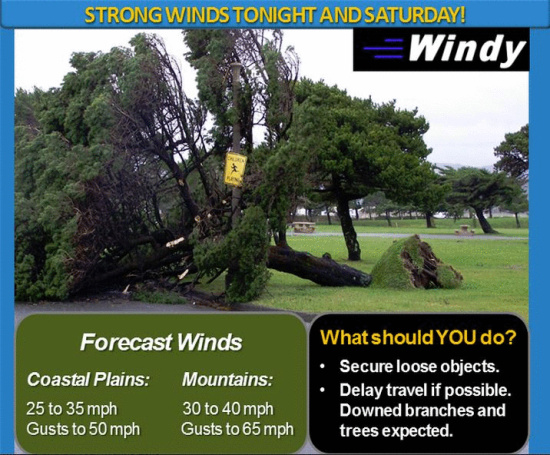 Graphic from the US National Weather Service in Eureka (Like their Facebook page here.)
The US National Weather Service has issued a wind advisory from 11 p.m. tonight til 5 p.m. tomorrow for Humboldt County. The gusts should reach their highest tomorrow morning. Talk about dramatic weather! There is even a possibility of a tornado! According to Matthew Kidwell, forecaster in Eureka with the US National Weather Service, this is a "very slim chance" but it could happen. In addition, he says, there may be lightning and thunderstorms tomorrow afternoon.
High winds are forecast for all over the county beginning late tonight, Kidwell said. Because this is "the first big southerly wind of the fall, it is probably going to have more impact on people," he explained. "Things that you haven't tied down all summer are going to start to blow away." Trees and branches are predicted to fall. There will likely be power outages. Gusts could make driving, particularly for those driving high profile vehicles, difficult. Mountainous areas like Kneeland are in for gusts of 50 to 60 miles per hour in the peak morning hours.
Showers will begin early tomorrow morning with heavy rain at times. By late morning, thunderstorms are predicted. "If you can hear thunder," Kidwell warned, "you are close enough to be struck by lightning." Those at ball games or other outdoor activities, he said, should go indoors until a half hour after the last peal of thunder has been heard. During these thunderstorms, small hail could fall. Drivers should be alert and allow extra time to get to their destinations.
The rainfall is not expected to bring up local rivers much. Kidwell explained, "This system is moving through quickly… . It might bring some creeks up. The major rivers will come up a bit." However, overall, he said, there is "not expected to be much change" in river heights.
If anyone does see "any interesting or dramatic weather," Kidwell hopes that they will post it to the agency's Facebook page. We'd like to see any photos that you take, too. Please upload them in the comment section to share with everybody.
And, if anyone sees Dorothy blowing by, warn her to hold tight to ToTo til she gets over the rainbow.