Cannabis Growers Raise Consciousness About Their Issues While Raising Money for Needy Families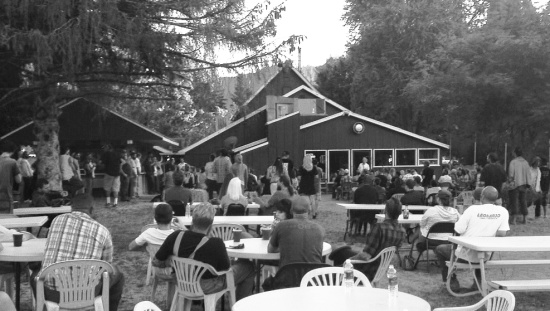 Members of the cannabis cultivation community mingled with local business owners and lawmakers at a meeting last Friday in Willow Creek. [Photo provided by Jason Beaver.]
On Friday, October 3, California Cannabis Voice in Willow Creek raised over $4000 to bring needy families in that community Thanksgiving and Christmas feasts. But that was just a side issue. The relatively new organization also brought over 200 people, including Humboldt County supervisors Ryan Sundberg and Virginia Bass, to discuss marijuana regulation. The festive event included two smoked hogs and music.
Sundberg stated in an email to the Outpost, "The BBQ meeting in Willow Creek last Friday night was one of the most encouraging I have been to in a while. People from the Marijuana Industry were coordinated and knew what the issues were that they need to overcome to become a legit industry."
Jason Beaver, Development Director for California Cannabis Voice (CCV) said that the gathering was designed to "put forth a map by which we can move forward and hopefully begin to regulate ourselves in Humboldt County so when legalization happens, we are already ahead of the game."
The relatively large turnout, Beaver said, shows the community's interest in regulation of cannabis. Beaver believes there "has never been a larger gathering in Willow Creek for political purposes." Having Humboldt County Supervisors join with members of the cultivation community," Beaver said, will "legitimize the conversation about our county's future in cannabis."
Supervisor Sundberg spoke to the CCV meeting in Willow Creek (see photo below.) Later, he recapped his statements in an email to the Outpost. He wrote, "I let them know my view that marijuana is here, it's not going anywhere, and we need to all talk about how to deal with the impacts now, so we can be leaders in becoming legitimate instead of accepting what out of the area people think is good for us."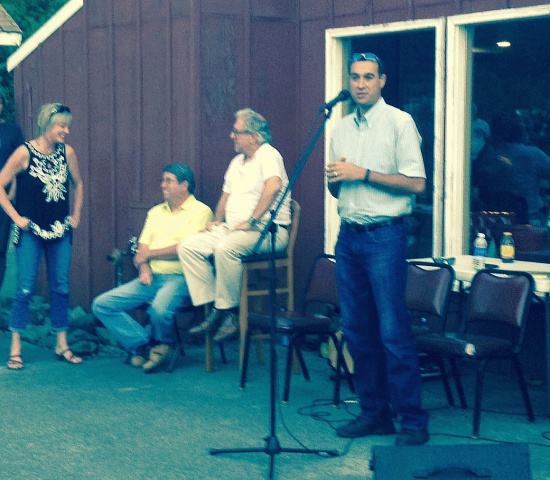 Humboldt County Supervisor Virginia Bass, Richard Marks CCV Humboldt Organizer, Matt Kumin, Director of CCV and Humboldt County Supervisor Ryan Sundberg at the Willow Creek gathering. [Photo provided by Jason Beaver.]
One of the goals of the CCV is to emulate the good practices of the wine industry. The organization believes that just as Napa is the center of wine making for California, the Emerald Triangle can become a similar center for cannabis. Luke Bruner, CCV treasurer said in an interview with the Outpost, "Doing [regulation] right will improve the value of our land and cause the price of our products to go up. If we improve the value of our brand…if our brand is associated with best practices …those are the things you have to do to become the next Napa."
Bruner believes that in order for marijuana growers to gain respectability, they need to differentiate "themselves from the bad actors and the trespass growers." He explained, "When legit farmers can be legalized and regulated on the books and taxed, then we will have a scenario where the county and the legit farmers can work hand and hand."
Beaver agrees. He explained to the Outpost in a phone interview that CCV wants Humboldt County to "have something that protects its brand moving forward. We need to do the very best we can to protect our brand internationally." One of the ways to do that he said is to "be pioneers in the environmental area. There are so many people here already doing that."
Patrick Murphy, the CCV Willow Creek Community Outreach Director, believes that there is a "perception of local [cannabis] farmers that they are greedy people who don't care to solve the problems that the industry has brought to the area." He said that he and CCV want to change that perception which is why they have started identifying areas of concern and are stepping in to help. He explained that in Willow Creek, with the help of local organizations, CCV "identified 120 families–some of these families are elderly people who are by themselves and some are families with multiple children–that might not have Thanksgiving or Christmas dinner. In this one night we got over $4000 to help."
The next area that Murphy is hoping to work on in his community is removing trash possibly left by "trimmigrants," itinerant marijuana labor. "We put together a volunteer list… . There is a lot of trash under the bridge–that seems an obvious place to start."
Murphy said that when he approached his local water board seeking ways to help in Willow Creek, he told them, "We want people to know we are your friends and we're your family and we're your neighbors and we want you to know that local cannabis farmers can be outstanding members of this community.
Supervisor Sundberg noted that working to regulate the cannabis industry is still in its fledgling stages. He wrote, "There is a lot of work to do, but I think this is going in the right direction."
The next meeting of Humboldt's CCV is today in Eureka. Go here for a description.