Homesteading Humboldt: A Gift From the Sea
Want to learn how to make stuff? build stuff? grow stuff? The Lost Coast Outpost will occasionally be bringing you guest posts from experts in their fields that will give you a bit of information on living sustainably and cultivating old-fashioned skills in a modern way.
Today's post in our Homesteading Humboldt series is written by Dottie Simmons. She and her husband, Dennis, are the creators of one of our local businesses, Simmon's Natural Body Care. Their Facebook page is here. Simmons is a Humboldt County Master Food Preserver (MFP) and a trained volunteer through the University of California Cooperative Extension (UCCE.)
From Sea to Pantry
Part of keeping a well-stocked pantry is having some protein packed away. Dry beans and peas fill some of that need, frozen meats another, but there is nothing like having some canned Albacore tuna!
Now is the time of year fresh/frozen Albacore tuna is available direct from the fishing boats moored at Woodley Island. Canning your own tuna is a job worth the effort. Home canned Albacore is delicious and you can have variety you can't find any other way.
First and foremost, Tuna MUST be canned in a pressure canner (NOT pressure cooker) with a gauge. Low acid foods such as meat, fish, green beans and other vegetables, can harbor botulism bacteria, which are killed by the high heat (240°) generated by steam under pressure. Luckily, this is easy and safe to do in your kitchen.
Tuna tips:
You can buy tuna whole or loined (filleted). It costs a bit more to get it loined. The price you pay is for the whole fish BEFORE it is loined, but we have always found home canning tuna to be cost effective. We bought $60 worth of loins last week and got 16-8 ounce jars coming out to $3.75 each – not including the tuna we grilled for dinner!
Pros for buying the tuna filleted: It's not easy to loin a tuna if you are not accustomed to doing it, and can add a considerable amount of time to the process. You have none of the bones, tail, etc. to deal with.
Cons: If you want the extra parts: head; tail; bones; dark red meat, as cat food or fertilizer or?, you lose them when you buy it pre-loined.
To slice or loin it yourself, it is easiest when the fish is still partially frozen.
Put ¼ cup white vinegar in the water of the canner to help with clean up and cut the smell. This makes it SO much easier.
I mark a sheet of paper with the desired length for each type of jar and place it under a clear cutting mat. This makes it easy to get the right length every time.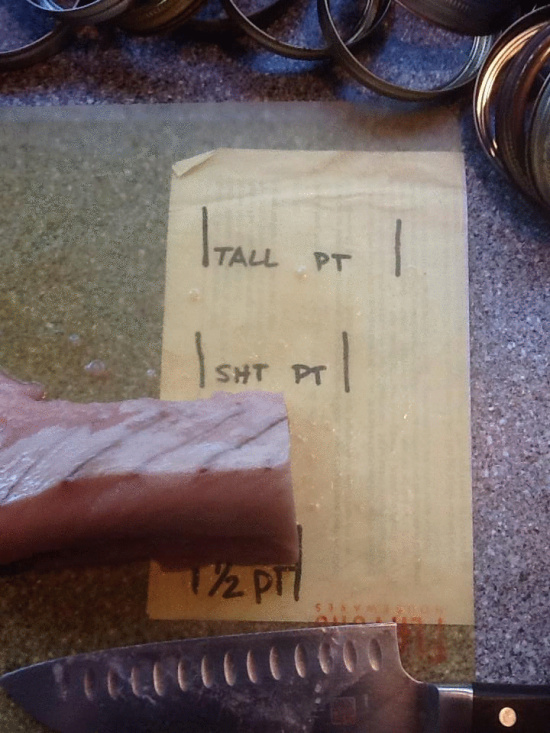 Cutting mat to help slice the right portion.

Canning:
Can tuna raw or cooked in ½ pints or pint jars.
Raw pack: cut the loins crosswise into jar size pieces and pack into clean, hot jars leaving a 1" head space.
Hot pack: bake or grill whole tuna until done (165° to 175° internally). Chill, then remove skin, bones, dark flesh, etc. cut into quarters (loins) and then into jar length pieces. Personally, I prefer raw pack, but we have friends that say grilling it first gives it great flavor.
Now you can get creative, adding anything from boiling water to Cajun seasoning to add variety. We like tamari soy sauce, lemon infused olive oil, or diced jalapeno pepper, but the possibilities are endless. We like the lemon tuna in with salads, the tamari with vegetables. For liquids, add 1 tablespoon per ½ pint, 2 tablespoons to pint jars. Put no more than ½ teaspoon salt per ½ pint, 1 teaspoon per pint.
Remember to leave a 1 inch headspace, remove any air bubbles and wipe the jar rim before adding the 2-piece lid.
½ pints or pints are both processed 1 hour and 40 minutes (100 minutes) at 10 pounds pressure (11 pounds if you are over 1000 ft elevation, 12 lb. over 2000' or 13 lb. from 4000' to 6000').
And whatever you do, save some to eat fresh. Albacore is a gift from the sea!
Questions about food preservation? Interested in a demo?
Questions about the Master Food Preserver Program?
Contact the Humboldt County Cooperative Extension Office at:
5630 S. Broadway, Eureka, CA 95503, Phone: 707) 444-9334, or online at: http://cehumboldt.ucdavis.edu
Previous Homesteading Humboldt posts: