Lodge Fire Reaches Eel River at Big Bend South of Leggett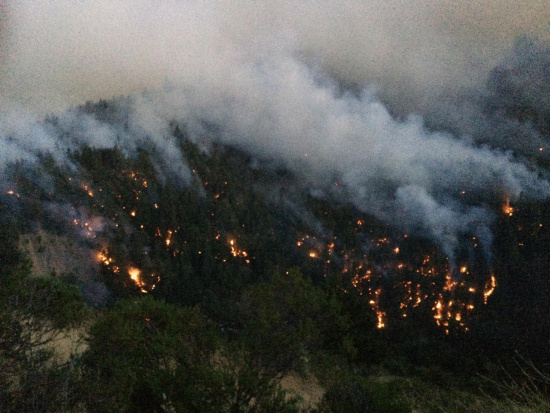 UPDATE 9:04 p.m: Photo from the Lodge Fire this evening.

The Lodge Fire rushing towards the Eel River. [Photo taken from Hwy 101 near the Hermitage posted about 6 p.m. by the Redwood Mercantile. Click this link to see more photos.]
"I'm watching trees burn right now," said Kim Sallaway, a photographer from Humboldt who is currently capturing images from the Lodge Fire burning in northern Mendocino. "This fire takes up the entire face of the mountain," he said.
Sallaway was calling from the Big Bend area just south of Leggett. "I'm watching a tree right next to the river catch on fire. The tree has now spread to the one next to it," he paused for half a second and added, "and the one next to it, too."
Sallaway has promised the Lost Coast Outpost photos so keep watching for updates.
The Lodge Fire has now reached 11,300 acres and is 50% contained.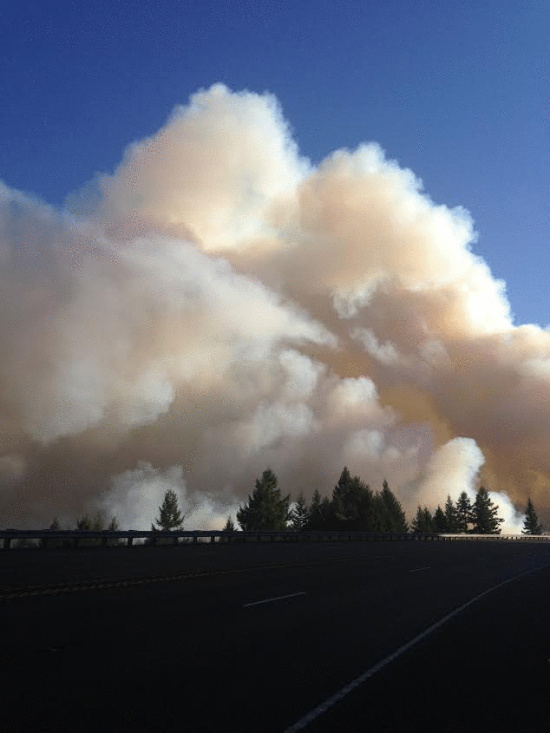 Smoke billows along Hwy 101. [Photo provided by a reader.]
Cal Fire press release as of 7 p.m.:
Current Situation: Firefighters continue to enhance line in the area of Tenmile drainage and along Highway 101. Aircraft were able to engage in suppressive activity once the inversion layer cleared this afternoon.

Drift smoke continues to be present throughout the Ukiah Valley and has been reported from as far away as Santa Rosa. Interior portions of the fire will continue to burn and may be visible from Highway 101.

The American Red Cross has officially closed the Evacuation Shelter at Leggett School. Red Cross representatives have advised that it can be re-opened, should a need exist.

The Evacuation Order in the following areas has been downgraded to an Evacuation Warning –Camp Seabow, Bowman Ranch, Hunt Ranch, Tan Oak Park, Elk Creek and Mad Creek.

The Evacuation Order is still in effect for the areas south of Highway 101, west of Cummings Road to Leggett. These areas include: The Hermitage, Big Bend and Camp St. Michael. We will continue to evaluate the need for the evacuation order as the incident progresses.

Please visit www.wildlandfirersg.org for information on how to prepare for an evacuation.