Lodge Complex Continues to Grow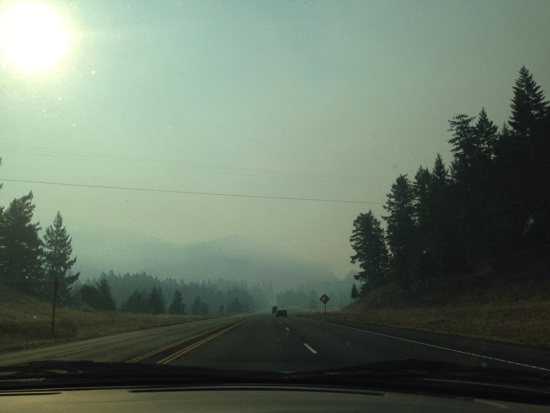 Smoke from the Lodge Complex as seen by South Legget. [Photo provided by Paria Amber Wallan.]
As the Lodge Complex fires northwest of Laytonville expands, fire crews are preparing for a worst case scenario and removing brush from around structures that are at risk. According to Cal Fire spokesperson Julie Cooley, "Fire crews are in the process of removing dried and dead vegetation around residences in the Horseshoe Bend area." Seventeen structures are threatened. The blaze, which now encompasses, 2700 acres is only 10% contained.
Click to make the map larger. [Map provided by David Jeffreys]
More personnel and equipment have been brought in to fight the fires. There are now 908 individuals, 48 fire engines, 28 fire crews, 20 bulldozers, 14 helicopters and 24 water tenders.
Firefighters near one of the helicopters working on the Lodge Complex. [Photo provided by Paria Amber Wallan.]
More information about the fires here.