Lodge Complex Fire Expands Again
[youtube http://www.youtube.com/watch?v=J_aIqtKw3pg?list=UUIKESzTclEzeJDUpMRIweFw]
Chinook helicopter lands for refueling at Black Oak Ranch north of Laytonville. [Thanks to David Jeffreys who provided the photo and video for this story.]
The Lodge Lightning Complex northwest of Laytonville spread to 902 acres overnight, according to Cal Fire spokesperson Julie Cooley. Crews managed to keep the fire at 20% contained, however. Today, Cooley says there is the "possibility of triple digit temperatures." With dry fuel loads and high temperatures, firefighters will be struggling. In addition, the fire is burning in heavy timber on rough and remote terrain. At this time, only one structure is threatened.
654 personnel have been brought in to battle the fire. There are 33 engines, 23 inmate crews, 7 dozers, 4 copters and 6 water tenders on site.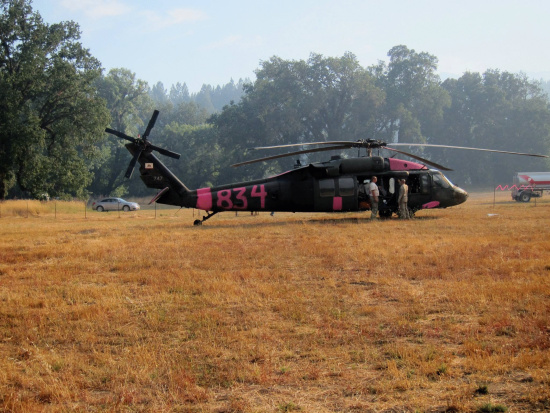 A National Guard helicopter with crew lands at Black Oak Ranch during a break from the firefighting. The California National Guard has been assisting Cal Fire. Laytonville Fire, the Bureau of Land Management, and inmates from the California Department of Corrections and Rehabilitation have also been working on the incident.