Deputy Nets Hundreds of Crabs During Traffic Stop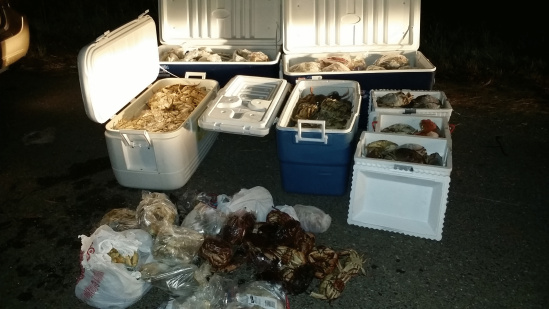 Humboldt County Sheriff's Office Press Release:
On 07-25-14 at about 0245 hours a Humboldt County Sheriff Office deputy conducted a traffic stop of a vehicle on US 101 near Murray Rd, Mckinleyville. While talking to the driver of the vehicle, who was identified as Pae Vang age 40 from Stockton, California, Vang told the deputy he had over a hundred crabs in the vehicle. The deputy could see at least 4 large 80-100 quart coolers in the back of the van. Vang gave the deputy permission to search the coolers.

The deputy located between 300-400 Dungeness crab in the coolers. California State law for the possession limit of crab is 10. Vang claimed to have caught the crabs in Del Norte County. An Officer with the California Department of Fish and Wildlife Services was contacted and responded and took over the investigation. All of the crab was taken as evidence by the Fish and Wildlife Officer. Vang was cited and released [edit] on scene by the Fish and Wildlife Officer for over the legal limit of Dungeness crab, which is a misdemeanor.