[RETURNED] Eureka Juggalo Missing for Ten Days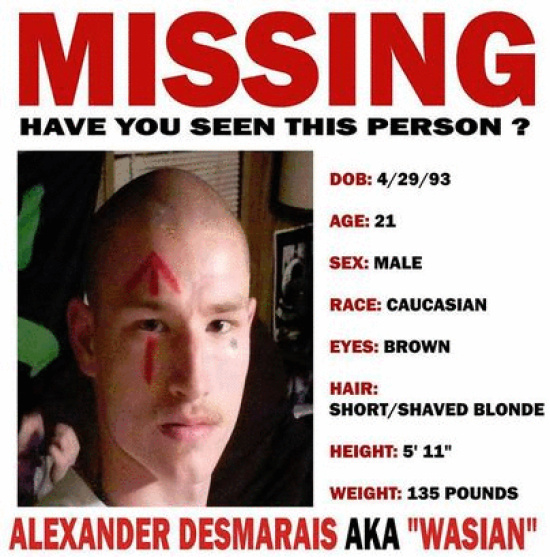 UPDATE 1:30 p.m.: Alexander Desmarais has returned home.
###
Original Post:Alexander Desmarais, age 21 from Eureka, was last seen June 26th when he was at the Little Red Lion Cocktail Lounge with friends. A text was received from Desmarais' phone on the 29th purportedly from him. The text said he was fine and not to worry. However, he has not been heard from since. According to roommate, Desiree Husted, he has not shown up at the roofing company he works for and he has not responded to attempts by friends or family to contact him. Nor has there been any response to flyers with his image which were posted several days ago in the Eureka area.
Desmarais, has a small three ring tattoo under his eye, the words "Wicked Klown" and "Juggalo" on his neck, Insane Clown Posse face paint tattoo on his left torso and an Insane Clown Posse butterfly tattooed on his left arm.
If anyone has any information about Desmarais, contact Eureka Police Department at (707) 441-4060.