Families and Law Enforcement Search for Two Missing Women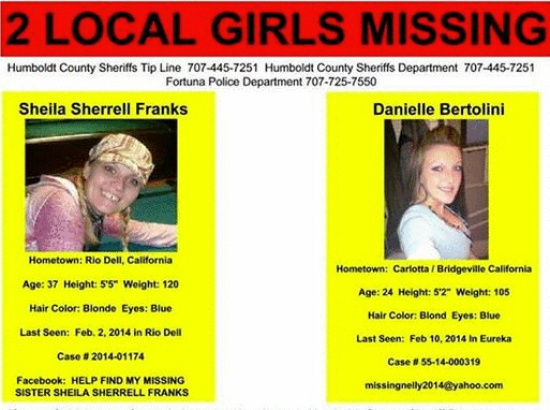 On Memorial Day, the families of Sheila Franks and Danielle Bertolini spent the day together. Unlike other families, they weren't having picnics and playing at the beach, they were looking with law enforcement and search dogs for their missing loved ones. The two women, both from Humboldt County, went missing in February. They both have blonde hair, blue eyes and similar body structures.
Today, Melisa Walstrom, Sheila Franks' big sister, is methodically combing areas of Humboldt County looking for the two women again. "I have to get ready to go on this next search we're doing today," she explained this morning in a quick interview before she headed out.
"Yesterday," she said, "We went out and searched an area… . We really did not come up with anything. We were out there for hours. The family for Danielle's family, myself and my husband, and the Fortuna Police searched with us." Later, a search dog team arrived to help.
"Today," Walstrom added, "we're going to two places and tomorrow we're going to another maybe… ." She and Bertolini's family are hoping that people with information about where the two women might be found contact them or contact law enforcement quickly while the team with the search dogs are still in town. The team came all the way from New Mexico and can't stay in the area long.
Wendy Kessinger with K-9 Forensics explained that she and her five dogs are "here in Fortuna doing a search for Sheila and Danielle… . We're asking that anyone with any information that they could assist us with, call us… No questions asked." She gave an anonymous tip line (800) 782 7463 [Go here to see how the call works to protect privacy] or said that people with information could call K-9 Forensics directly at (505) 459-0800.
"Clear your conscience," Kessinger asked those with knowledge of the two women. "All we want to do is give closure to the families and bring their loved ones home."
Walstrom is looking hard for her little sister–alive or dead, she needs to find her. "I still, in my heart, want to believe there is a possibility [she is alive] but there has been no contact… since Feb 2 with her son. We know that if she was able to contact him, she would."
Donations to help fund the search effort can be made in the following places. The family has also provided more information about the missing women at the two first sites.
Previously: