US Marshals Say Homicide Suspect Benjamin Carter Member of White Supremacy Gang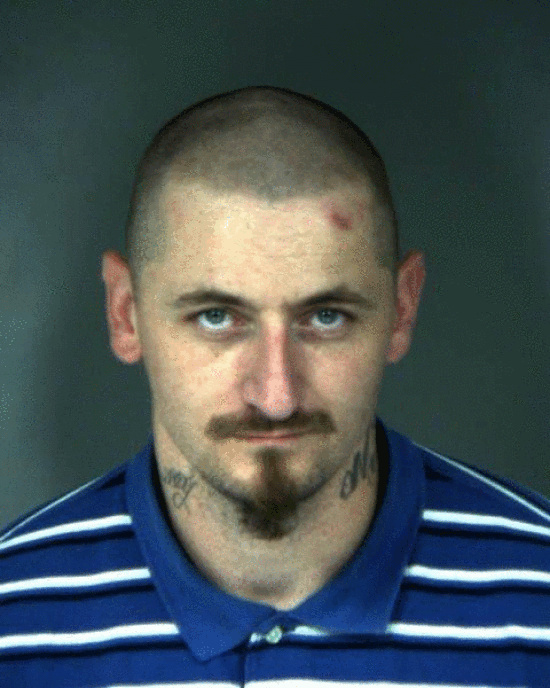 Benjamin Jasper Carter (age 33), the suspect in the April fatal shooting of Zachery Chapman near Garberville, is described as a "documented member of a white supremacy gang" by the Arizona US Marshal's Office. (See press release below.) Carter, who was arrested May 12th in Lake Havasu City, Arizona at the home of a relative and former Humboldt County resident, Sunny Harvey, has not previously been tied publicly to gangs. (See Previously below.)
According Deputy U.S. Marshal Ryan Jackson of Arizona, on Friday, May 9, his agency received "a possible lead that Carter might be in Lake Havasu City" at a relative's residence. This was "not the only lead" but one that the Marshal's Office needed to follow up on. Carter's relative's apartment was located and surveillance began May 12 by Deputy U.S. Marshals and Lake Havasu City Police Department detectives. Carter was seen leaving the apartment that day around 5 p.m. and was arrested soon thereafter.
Carter's alleged white supremacy gang ties have not yet been explained. We'll attempt to find out more and we'll update as soon as we do.
US Marshal Press Release:
YUMA, Ariz. – …Benjamin Jasper Carter, 33, was arrested in Lake Havasu City by members of the U.S. Marshals led Arizona WANTED Violent Offender Task Force at a residence near Kearsage Drive. Carter was wanted in California by the Humboldt County Sheriff's Department for murder.

Carter, a documented member of a white supremacy gang was wanted in connection with the brutal murder of a 36 year old victim who died of a close range shotgun blast during a domestic dispute. It is alleged that on April 17, 2014, Carter was involved with the shooting when the victim arrived at a residence in order to reclaim a firearm and to see his ex-girlfriend. On April 18, 2014, a warrant was issued out of Humboldt County, California for Carter's arrest and it was believed that he fled the state.

On May 9, 2014, information developed by the U.S. Marshals Service Pacific Southwest Regional Fugitive Task Force in California was forwarded to Deputies in Arizona that Carter had a relative who lived at an apartment in Lake Havasu City, Arizona. On May 12, 2014 Deputy U.S. Marshals and Lake Havasu City Police Department detectives were able to locate the apartment and establish surveillance. Carter was seen exiting the apartment at approximately 5:00 p.m. and was taken into custody without incident. Carter was booked into Mohave County Jail and is awaiting extradition back to California.

"The arrest of Carter was the result of collaborative law enforcement efforts," said U.S. Marshal David Gonzales. "We foster and support relationships with our local, state and federal law enforcement partners and this ensures criminals have no safe place to hide."

The United States Marshals Service is the nation's oldest federal law enforcement agency. Annually, U.S. Marshals arrest more than 50 percent of all federal fugitives and serve more federal warrants than all other federal agencies combined.
Previously: