Eureka National Guardsman Receives Award for Saving Another Man's Life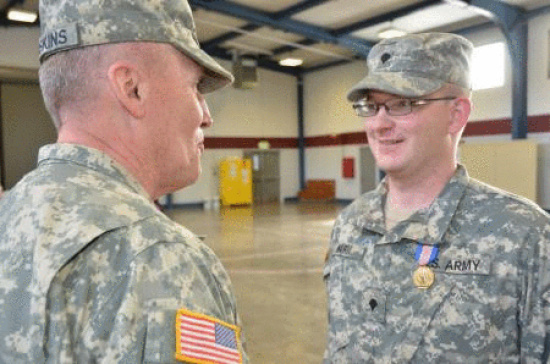 California Army National Guard Commander Maj. Gen. Lawrence A. Haskins gave Spc. Nathaniel Warvi an award for helping save another man's life.
On March 1, Eureka man, Spc. Nathaniel Warvi, received the Soldier's Medal from the California National Guard for saving another man's life in Afghanistan. According to an article in DVIDS (a military news organization,) this medal is the highest non-combat award for valor a soldier can receive. Warvi received in for his actions in July of 2012.
According to the article,
While working on a bridge July 27, 2012, [Warvi and another soldier] received a call to assist at the site of a nearby accident. They responded in a mine-resistant, ambush-protected (MRAP) recovery vehicle and found a 54-foot trailer and semi-truck had rolled over and trapped its driver.

While Pacheco and Warvi were using the MRAP's equipment to lift the overturned vehicle off its driver, the vehicle's batteries fell and stopped 18 inches above a pool of gasoline. Held only by connecting cables, the batteries posed a major threat of ignition to the driver and the rescuers.

After about 45 minutes of work, the man was finally freed and evacuated to receive medical care.
Read more about the story, here.
Congratulations to a hometown hero.