[UPDATE-Hazardous Material Spilled] Hwy 101 Partially Closed! Truck Overturned by Richardson's Grove
UPDATE 9: a.m.:
California Highway Patrol Press Release:
On May 2, 2014, at approximately 0430 hours, A 2013 International Pro Star truck tractor, pulling a set of doubles freight trailers, was traveling northbound on US-101, north of Twin Trees Bridge (MPM 6) in Humboldt County. 60 year old Frank Martinoni, of Petaluma, Ca., was the driver of the semi-truck. For reasons still under investigation, the driver of the truck allowed the right side tires of the rear trailer to run off the east roadway edge of US-101 and into a drainage ditch. This resulted in the driver losing control of the trailer as it began to fishtail. The rear trailer overturned onto its left side and came to rest in the #2 lane of northbound US-101. The truck tractor and the lead trailer did not overturn. The driver was uninjured as a result of the collision.

The collision caused hazardous materials that were in the trailer's cargo to be released. At this time, the hazardous material product, and quantity spilled is undetermined. The scene remains under control and the hazardous material cleanup will be conducted by a licensed contractor provided by the trucking company.

In addition to CHP, CalFire, Garberville Volunteer Fire, Caltrans, and Humboldt County Environmental Health responded to the scene.

Both northbound lanes of US-101 were closed for an extended period of time during the recovery.

This collision remains under investigation by the California Highway Patrol. Alcohol does not appear to be a factor in the cause of this collision.
UPDATE 9:42 a.m.: CHP dispatch is reporting a Hazmat spill. We'll be updating with more information as soon as possible.
UPDATE 7:36 a.m.: According to Caltrans spokesperson Betsy Totten, the truck is carrying batteries not acid as first reported.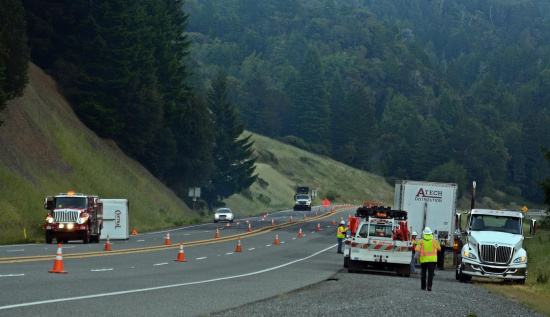 Caltrans has cones up and traffic is very light. [Photo by Talia Rose]
UPDATE 7:14 a.m. According to CHP spokesperson, Matt Harvey, This morning, just north of Twin Trees bridge, a semi truck northbound pulling two trailers had an accident in the four lane section of road. One trailer overturned. There was no spill and there is no anticipation of a spill. There is no anticipated long term closure. Motorist can anticipate short delays of 5 to 10 minutes for vehicle recovery.
UPDATE 7:05 a.m.: When reached for comment, a CHP spokesperson said that Hwy 101 is not completely closed. It has been reduced to two lanes instead of four.
——————-
Original post: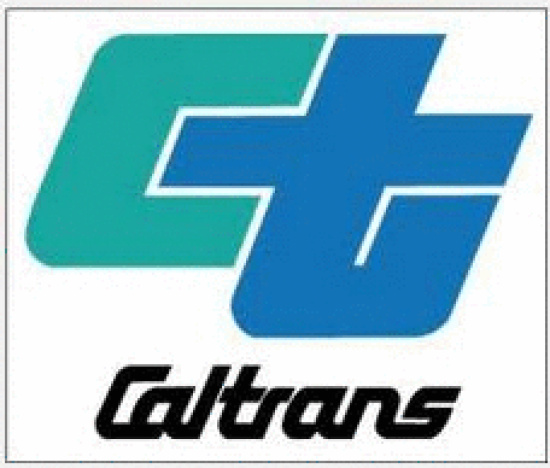 According to CHP dispatch and Caltrans, a truck carrying acid overturned just north of Richardsons Grove. There has been no spill as of yet but, according to Caltrans spokesperson, Betsy Totten, there is always a risk especially when the vehicle is moved.
Caltrans is projecting a long term closure of both lanes. The length of closure is unknown.
Follow the CHP dispatch here. We'll be updating as soon as possible.