Possible Arson at Shelter Cove Last Night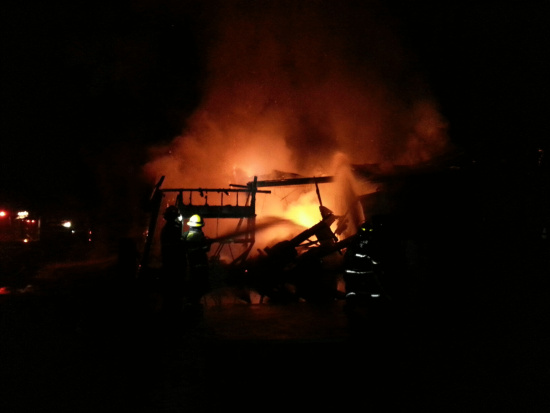 A fire in Shelter Cove destroyed the old tackle shop early this morning. (Photo provided by Cheryl Antony of the Shelter Cove Fire Department.)
"We've asked for an arson investigator," stated Cheryl Antony the on-duty officer for the Shelter Cove Fire Department (SCFD.) Antony was speaking about the fire that partially burned the old tackle shop in Southern Humboldt early this morning. The building, which had been almost empty for some time, was reported on fire to the SCFD at 12:38 a.m. today.
The fire, Antony said, burned extremely hot. As Antony drove to the scene, she said she saw, "the whole sky glowing pink."
"It is mysterious that a fire started when everything is wet," Antony said. The firefighters poured 30,000 gallons of water onto the building before they were able to quench the blaze.
Because of the building's dilapidated shape (see photo below) some residents, she said, asked, "why didn't you let it burn?" However, she pointed out, wind could have caused the fire to spread to nearby buildings if it had been left to burn.
"We had it under control in 45 minutes," she explained. But a good portion of it is destroyed. According to Antony, "The building was depressing before this. Now it is even more depressing."
The property, according to the Redwood Times, was slated to be upgraded and developed into a multi-purpose commercial fishing, one-stop shop.
Clayton Phelps, who provided the photo below and is a member of Barns of Humboldt County, a Facebook group, devoted to capturing images of local structures, said he was sad to hear about the destruction. "It was just a ruin, but still a part of history."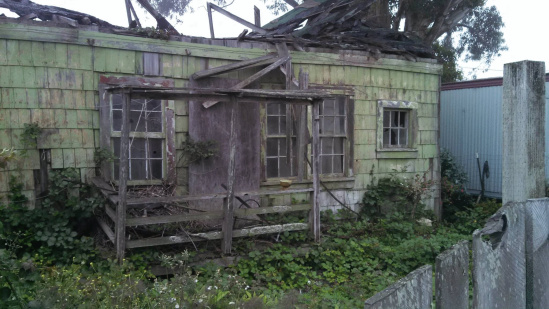 This photo was taken last summer and shows the dilapidated building. It had been paritally burned some years previously. (Photo provided by Clayton Phelps.)