Memorial Service for Slain Mendocino Deputy Televised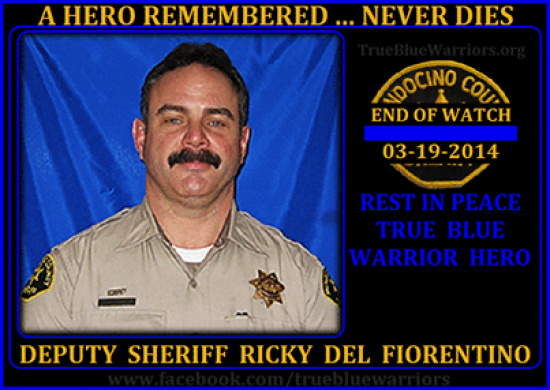 Mendocino County Sheriff's Office Press Release:
In preparation for the memorial service for fallen Deputy Ricky Del Fiorentino on Wednesday March 26, 2014 at 10:00 AM the Mendocino County Sheriff's Office expects attendance to exceed the seating capacity of the Cotton Auditorium.

Overflow seating has been established adjacent to the Cotton Auditorium at the Fort Bragg Middle School Gymnasium and a large enclosed outdoor tent beside the Gymnasium.

It is expected that there will be a live steaming video feed transmitted from inside the Cotton Auditorium to the Gymnasium and tent for viewing purposes.

The live steaming video feed will be broadcasted on cable channels 3 and 65 in the Ukiah Valley area and on the internet at the www.mendocinoaccess.org website.

Those who are unable to attend the memorial service are encouraged to watch the cable broadcast if all possible as opposed to the internet broadcast to prevent any disruption in the internet broadcast due to over saturation.