Hwy 101 Closed [NOW OPEN!] Near Crescent City Today [with PHOTO]
UPDATE below.
Caltrans Press Release:
The planned closure of US Highway 101 about 5 miles south of Crescent City began just after 9AM this morning. This closure is planned to be completed by 5PM this afternoon, but Caltrans will strive to reopen the highway as quickly as possible. The full highway closure is needed to safely remove slide material which includes a large redwood tree.

Caltrans will provide regular updates throughout the closure on Twitter (https://twitter.com/CaltransDist1) and Facebook (https://www.facebook.com/CaltransD1).
UPDATE 12:20 p.m.: Caltrans has managed to clear the material and Highway 101 is now open!
UPDATE 1:32 p.m.: The road still has one way traffic control so there will be some delays. Below is the site as it looked when the large redwood had fallen across the roadway.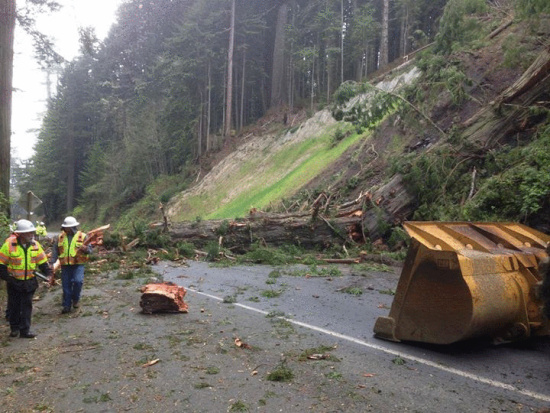 Previously: