Multiple Law Enforcement Agencies at Myers Flat Residence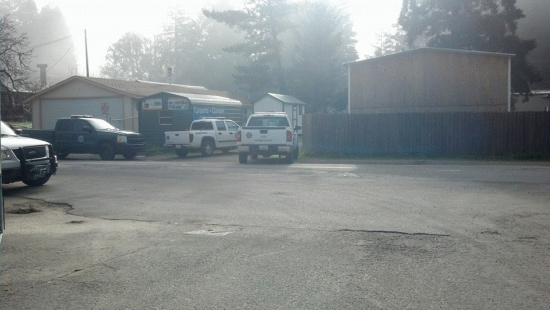 Multiple law enforcement agencies have officers with guns drawn in Myers Flat neighborhood. Photo by Chad Springer.
Shortly before 9:30 a.m. this morning on Myers Avenue in Myers Flat opposite Redwood Garden Supply, there were law officers with "guns drawn in some guy's front yard," according to Chad Springer.
The Southern Humboldt resident described multiple law enforcement agency vehicles including the Humboldt County Sheriff's Office, the Department of Fish and Wildlife and the California State Parks "visiting" this home in Myers Flat.
There were officers, he said, with "assault rifles drawn" looking around for some time. As of 10:23 a.m. officers were still at the residence. Another witness believes that there may have been arrests associated with the raid.
UPDATE 1:40 p.m.: