Warning: Alert Issued on Company of Recent Door to Door Salespeople
When the Better Business Bureau (BBB) gives a company a big fat "F," signing a contract with that business might not be a good idea. Yesterday and today, salespeople from one of BBB's "F" companies, Commerce Energy aka Just Energy Group, have been knocking on doors in Eureka.
The BBB has harsh words for Just Energy Group. The company, they say, has "a large volume" of complaints–583 in the last three years—and its salespeople give false information as well as use high pressure sales tactics. The Canadian government has slapped the company with fines for a variety of infractions.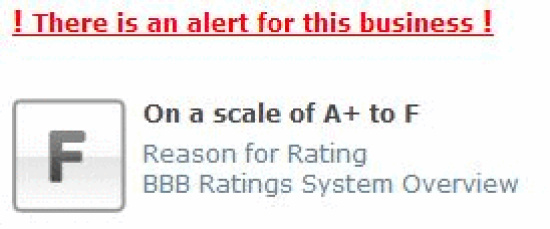 Screensnip of BBB's grade for Just Energy Group
Eureka resident Rick Werner alerted LoCO to the presence of the company's salespeople in the area. He sent an email describing his experiences. According to him, around noon today, he was working in his backyard when a salesman from the company knocked on his door and spoke to his wife. Werner wrote that after his wife got rid of the man, she told Werner that the salesman "kept asking to see our last PG&E bill, so that he could determine if PG&E was overcharging us."
This concerned Werner. He researched the company and found a plethora of sites
complaining about this [company's] unscrupulous door-to-door selling practices. …I also read about many unhappy customers who had been suckered into signing a five year agreement with Commerce Energy on the promise of lower rates, only to find their rates go up drastically after a few months.
Deciding to follow the salesmen around and protect his community, Werner found the man chatting with a neighbor. Werner introduced himself to the neighbor and explained that he thought he should research the company on the internet and not show the salesman a PG&E bill. Werner did this for the next home and the next that the salesman tried to call on.
Werner continued to protect his neighborhood. He wrote,
The salesman gave up and just started heading north and met up with his partner. They discussed what to do as the three of us walked north. They knew they were not going to make any sales with me around. I asked them to just drive away, but they said they had been dropped off on 7th street and had to walk back there for a ride. Upon reaching Wabash, they asked if I was going to follow them all the way back to the van. Well, it was raining pretty hard at that point and I was quite wet, so I offered them a deal. I said if they stayed out of my neighborhood, I would let them be. They agreed not to work between Henderson and Wabash and between A and H St. I told them if I saw anyone from their company back in that area, I would follow them around all day long. At this point we parted ways.
Then he emailed the LoCO.
The salesman could be working other areas. Brittany Kesterson, a Eureka Police Department spokesperson, said that the company does not appear to have the proper permits and the EPD will be investigating.
If someone has already signed a contract, Lori Wilson, Chief Operating Officer of the BBB, explained to LoCO that they can still cancel. "In the US, if you sign a contract at your home, you have three days to cancel," she said. "The way the rule works is the business is supposed to have wording in the contract on how to cancel."
However, the company may not have included that information. If they haven't, contact information is on their website. "The best thing to do if [a customer] wants to cancel," Wilson said, "is to contact the company." Try to get proof that contact has been made. "If that doesn't work," she said, "they should contact the BBB."
In addition, Wilson said, "I'm afraid if the customers are giving them a PG&E bill [and] the company doesn't have an ethical track record, they might use the information to sign people up without their consent."
When reached for comment, Just Energy Group claimed to have no spokesperson available at the time.
Remember to read contracts carefully, investigate any unknown business, and be cautious about sharing personal information.
Other Links Pertaining to Commerce Energy: