Huffman Asks Obama to Reclassify Cannabis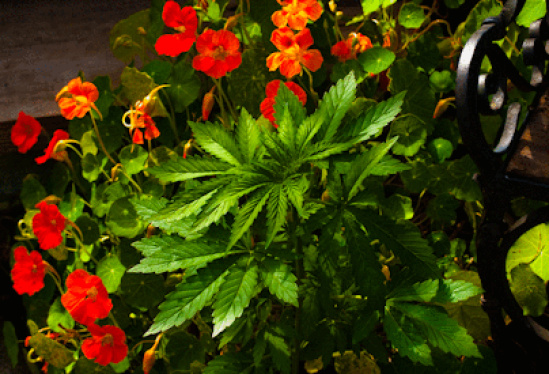 Young marijuana plant surrounded by nasturtiums.
Today, 18 congressmen and women–including the North Coast Representative, Jared Huffman Hoffman–sent a letter to President Obama requesting that marijuana be reclassified from a Schedule 1 drug. They asked that the plant be moved from its current position in the most dangerous category.
Marijuana is currently designated in the Federal Controlled Substance Act as a Schedule 1 drug. Methamphetamine, for example, however, is only a Schedule 2 substance. A change of listing to a Schedule 3 drug as requested in the letter would place cannabis alongside of substances considered to be of moderate to low addictive potential such as Vicodin
The congressmen's letter (see here for full text) calls classifying marijuana as a Schedule 1 drug "unjust and irrational." They state that "lives and resources are wasted on enforcing harsh, unrealistic, and unfair marijuana laws."
President Obama claimed in an interview with CNN that changing the scheduling wasn't his job. "What is and isn't a Schedule I narcotic is a job for Congress," he said.
However, as was pointed out here, this doesn't appear to be true. The US Code Controlled Substances Act very clearly states, "the Attorney General may by rule…remove any drug or other substance from the schedules if he finds that the drug or other substance does not meet the requirements for inclusion in any schedule."
The congressmen's letter stresses that changing or de-listing cannabis is of major importance because it will be alleviating "the harms to society caused by the Federal Schedule 1… ." The letter enumerates several such harms including costs, "billions each year," and the large amount of people who are arrested for marijuana related crimes as well as how minorities suffer disproportionately under these laws.
However, one of the major benefits for at least rescheduling marijuana, according to one of the signers of the letter, Representative Earl Blumenauer of Oregon, is this would allow federal banks to accept money from legal cannabis businesses and prevent the potentially dangerous situation in which they must deal in cash.