Owner of Dog Poisoned in Blue Lake Speaks Out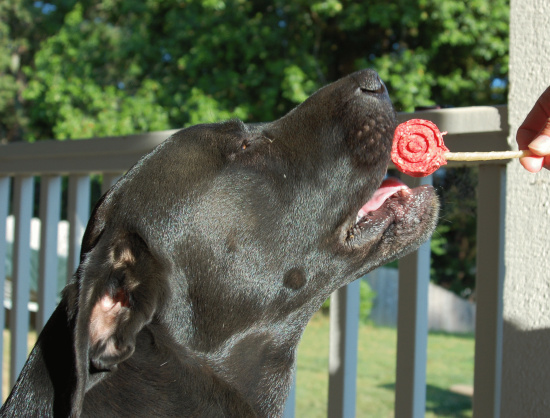 In happier days, Nyxo takes a treat from loving hands. (Photo provided by Mourad Gabriel.)
Mourad Gabriel, owner of Nyxo, the dog poisoned on February 3 in Blue Lake, is asking for help in catching the person or persons responsible for his pet's death.
Gabriel said that it appeared that Nyxo was deliberately poisoned. He explained that it seems that a lethal substance was given to the dog in meat products by someone meaning to harm the animal. The meat appeared to have been handled by a human. He believes the dog did not eat a creature poisoned somewhere else that wandered into the yard as has been suggested by some. Gabriel explained, "Nyxo's vomit and stool did not contain any fur, bones or wild animal parts. The meat appeared to be cut via a knife."
The poison used was determined to be Brodifacoum, a substance Gabriel described as being "commonly used as rat bait and is a highly lethal 2nd generation anticoagulant rodenticide." The meat products "are currently being held as evidence and [for] further testing to determine if other chemicals were involved besides the rat poison."
Gabriel sent the following statement to the Lost Coast Outpost:
Nyxo was a wonderful, handsome family dog. We met him as an abused local foster dog with Friends For Life and we took him under our wing to build his trust once again in humans. We fell in love with him, decided to adopt him and he was an excellent foster brother to many other foster dogs. The neighborhood kids loved him dearly and often asked to take him for walks. Nyxo will be missed by many and we are working with folks to start a reward fund to catch the individual(s) responsible. If you are interested in donating towards the Reward Fund, please email NYXOreward@gmail.com

If you have any information about this crime, please contact the Sheriff's Office at 707-445-7251 or the Sheriff's Office Crime Tip line at 707-268-2539.
Previously: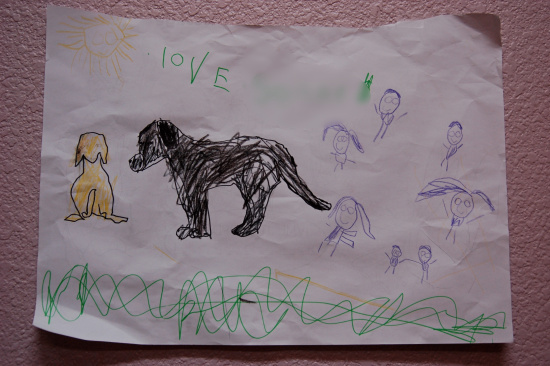 Drawing by Nyxo's friends, the neighborhood kids, made after he died. (Provided by Nyxo's owners.)