Fatality on Hwy 36 [UPDATED]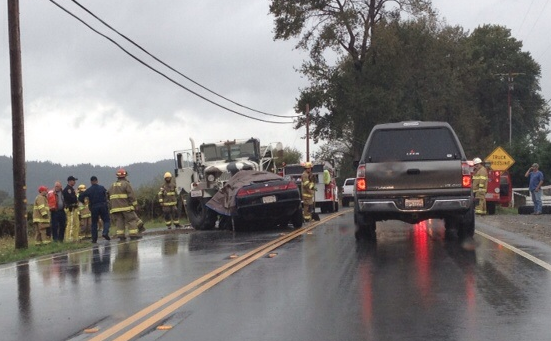 (Photo sent in by a LoCO reader who wished to remain anonymous.)
UPDATE 9/30: The CHP just released the name of the fatality in yesterday's fatal crash on HWY 36. It was 41 year old Kevin Sean McDonald of Alderpoint, California.
CHP Press Release:
On September 29, 2013, at approximately 1606 hours, a 2000 Honda was driving westbound on State Route 36 east of Wilson Lane. For an unknown reason, the driver of the 2000 Honda (name withheld pending notification of next-of-kin) drove westbound across the double yellow centerline into the eastbound lane and collided head-on with a 1970 Kaiser. Debris from the collision struck a nearby fence and parked vehicle. The driver of the 2000 Honda, who was not wearing a seatbelt, sustained fatal injuries and the passenger in the 1970 Kaiser sustained minor injuries. Both occupants of the 1970 Kaiser were wearing seatbelts. State Route 36 was fully closed for approximately 20 minutes for vehicle disentanglement, and one-way traffic control took place for approximately 4 hours.

The California Highway Patrol – Humboldt Area responded to the scene and is conducting the investigation. Emergency personnel from the Carlotta Volunteer Fire Department, Cal-Fire, the Fortuna Volunteer Fire Department, and the Humboldt Sheriff's Department responded to the scene. The cause of the collision is still under investigation.