SoHum Mega Bust Features Unpermitted Roads, Filled-In Streams, Big, Dangerous Diesel Tanks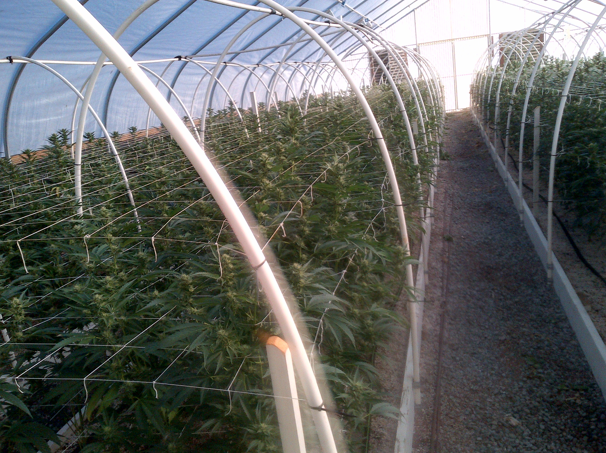 Humboldt County Sheriff's Office press release:
On 09-19-2013, approximately 9:00 a.m. the Humboldt County Sheriff's Office assisted by Cal Fire, California Department of Fish and Wildlife and Humboldt County Drug Task Force (H.C.D.T.F) served a Humboldt County Superior Court Search Warrant on an approximate 40 acre parcel of property off Dyerville Loop Road. The property is located approximately two miles east of South Fork High School.

When the officers arrived on scene they located several unpermitted structures, a residence and greenhouses. Two of the unpermitted structures were large indoor marijuana grows that had been recently harvested but were now dormant. The indoor grows still contained lights and ballasts. No one was home at the time of the officer's arrival. A search of the property revealed marijuana plants ranging in size from 1′ to 5′ in height being grown in and outside the greenhouses. A total of 2231 growing marijuana plants were seized. Officers saw unpermitted roads across water courses and portions of the water courses filled in with dirt, timber land converted to home sites without permits, illegal grading, illegal trash burning, and two large 1000 gallon diesel tanks. Both diesel tanks did not have the required containment fields for spill protection as required by law. Both of the diesel tanks were directly over a stream which feeds into Elk Creek which is a Coho Salmon spawning habitat. California Fish and Wildlife Officers saw and documented violations of water pollution due to sediment and dirt being in the creeks.

The evidence of illegal burning is being forwarded to North Coast Unified Air Quality Management by Cal Fire for additional charges due to evidence of plastic and other trash being burned in the burn pile.

The investigation is ongoing.

The Cal Fire Public Information officer is Jim Robbins who can be reached at Ph. 1-707-726-1251

The California Fish and Wildlife Public Information Officer is Jordan Traverso who can be reached at

Ph. 1-916-654-9937

Anyone with information for the Sheriffs Office regarding this case or related criminal activity is encouraged to call the Sheriffs Office at 707-445-7251 or the Sheriffs Office Crime Tip line at 707-268-2539.