Lost Pet Owners Want You to Look at the Humboldt Paws Cause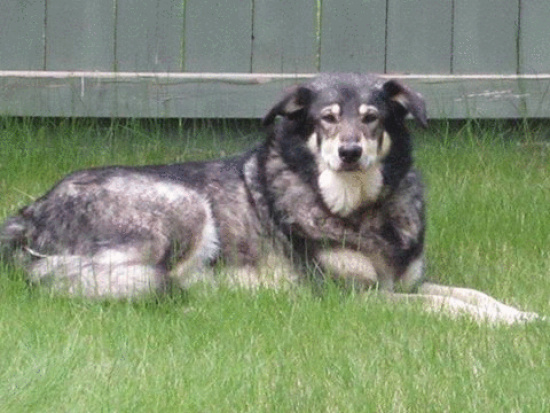 Julie Lisignoli says the Lost Coast Outpost and its readers are her last chance. She, like many other people who've lost their pets, is heartbroken. Almost two months ago, her dog Meeka, a twelve year old shepherd/husky mix disappeared from her side while they were walking in Hiller Park with three other family dogs.
She is hoping that like the most recent story of Rusty, a dog stolen along with his owner's vehicle from the Winco parking lot, Meeka's story will capture the hearts and Facebook status updates of many here in Humboldt. She hopes to be reunited with her dog like the caretaker at the Mattole Camp and Retreat was reunited with Rusty after the dog was recognized in the area of Fort Humboldt yesterday.
Lisignoli, who works in an animal hospital, was already clued into many of the important steps owners of lost pets should take. The first thing she did is search the area where the dog was lost–repeatedly calling her name.
The park was a favorite walking place for Lisignoli and her dogs. "I take my dogs 4 or 5 days a week on average," said Lisignoli. Around 5 P.M. on July 18th, she says, "we were on the trail towards the water treatment plant." She got a phone call from her mother. "I was maybe two minutes at the most talking on phone to Mom." She looked up. Meeka was gone. The other three dogs were still there." She began looking and calling. " I didn't see anyone on the trail immediately. Meeka is the kind of dog that likes to chase after smells. It is pretty common for her to wander more than others. But I can usually hear her. She makes a bunch of noise. She is not a delicate dog."
"This day," Lisignoli said, "I heard nothing-no sounds to indicate which direction she would have gone which was odd. I called for her but then I go a bit ahead and look and then I go back and look and she wasn't there." Lisignoli eventually went back to the car, loaded up her other dogs for safety and began searching along with her husband. They asked people they encountered if they'd seen Meeka to no avail.
"My husband," Lisignoli explained, "drove around the neighborhood. We searched the park until 10:30." One of the most important things to do is keep going back to the area that the animal was lost says the Humane society and Lisignoli and her husband did that they still return frequently. They also made flyers and posted them there as well as in any other area that people frequent such as grocery stores, etc.
Being a responsible pet owner, Lisignoli had already done the first step of making sure that Meeka was wearing a collar (pink) with a current phone number and rabies tags.
Humboldt Paws Cause, which Lisignoli contacted notifies four radio stations–KHUM, KSLG, KWPT and KXGO. It also provides a template which makes creating flyers easy. LoCO has a widget that embeds the latest from the Paws Cause on our site (See below–as of publishing time Meeka's owners had reuploaded her information and she is currently showing on the widget.)
Lisignoli also began using Facebook and asking friends to share her posts. She contacted animal hospitals, shelters, pet stores, feed stores, groomers, and pet boarders. Two months later, no sightings.
Lisignoli's three dogs and she still cruise Hiller Park hoping to see Meeka. After this story, she's hoping LoCO's readers will be keeping their eyes open for her beloved dog, too. And, all the pet owners on the Paws Cause hope the LoCO's readers will be looking for their lost pets, also. Remember to scroll down once a day or so and check out the Paws Cause widget here on LoCO or go to the Humboldt Paws Cause page.