It Takes a Village to Find a Dog–How a Community Rallied to Find a Dog Lost After a Car Accident [UPDATED with Reunion Photos]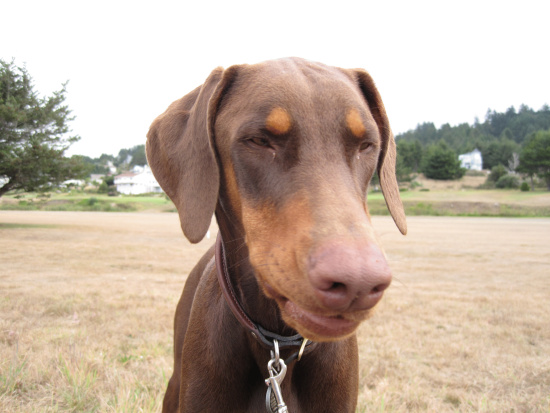 Diesel comes up close to the camera after being found earlier today. (Dog photos provided by Susie Fox.)
UPDATE 9/16: Photos of the reunion below original post.
Original post:
In a story detailed on the Redheaded Blackbelt (a blog by LoCO reporter, Kym Kemp,) on September 7th, a motorhome crashed near Shelter Cove. A passenger was injured and flown to Mercy Hospital in Redding.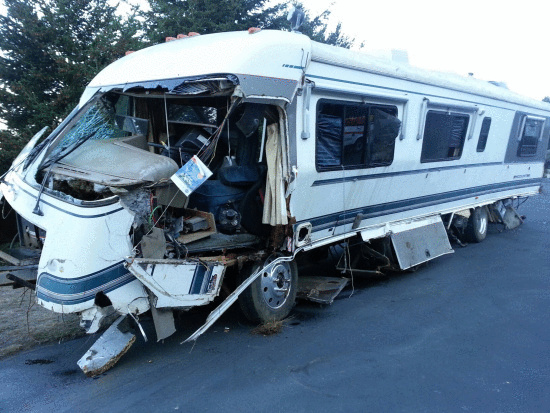 RV after having been towed. (Photo provided by Cheryl Antony the on duty officer for the Shelter Cove Volunteer Fire Dept.)
The husband of the injured woman found two of the couple's three dogs. But a third dog, a young doberman named Diesel, was missing. The Shelter Cove community began trying to help the couple and the dog.
"We've been tracking him," explained Susie Fox. "We really need to give credit to the whole community. Lots of people were putting out food for him." Then she sent out an email requesting everyone to send any sightings to her. "We got coordinated and everyone started calling me. We thought it would be good to have just one person so that we could see where he'd been spotted." She wanted to keep a close eye on areas where he had been seen so hopefully he could be coaxed to come in and be returned to his owners.
"I don't think he was spotted for the first two or three days," she said. But, eventually, sightings helped some community members narrow down his location. "He was hanging out not far from the accident," Fox declared. "He was keeping an eye on the crash site."
According to Fox, "Dan "the Dog Whisperer" York (shown below) was able to go to the area with his dog. He got down on the ground and shared "all natural, herbal dog calming snacks" with the terrified dog.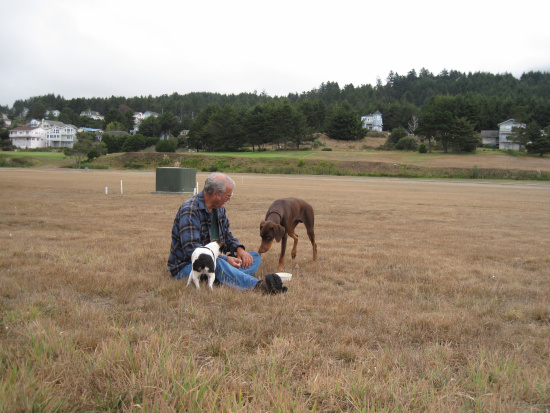 Dan "the Dog Whisper" York coaxing the frightened dog to come close for treats.
"I was able to sneak a leash on him," Fox explained. But, she said, "I didn't want to freak him out by dragging him around by the leash which I got on fairly early" so she hung out for awhile longer–almost three hours total–letting the dog get used to her. Eventually, a chew toy was tossed into Fox's husband's car and the dog went in after it. From there, he was taken to her home where he awaits pickup by the owner tomorrow.
The injured woman is still in the hospital but, according to Fox, "when Diesel's Dad said he told his wife, she said that was the best medicine and that Shelter Cove is the greatest place." Fox says the man will be here tomorrow to pick Diesel up.
"All of Shelter Cove has adopted this big goof," Fox said, but "he's going to be a happy boy tomorrow" when his owner shows up.
———
UPDATE 9/16:
Diesel's owner came to Shelter Cove to pick him up on Sunday. Several photos of the reunited owner and pup were sent to the LoCO today.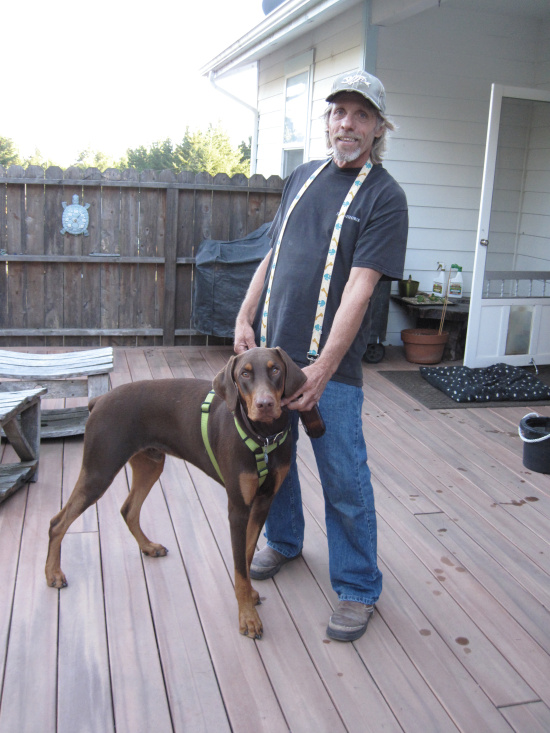 According to Susie Fox, "Diesel also got to speak to his Mom Sunday, via cell phone. He was talking like crazy and wiggling his whole back end."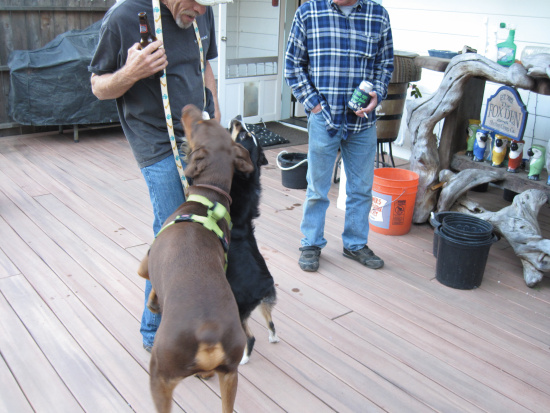 Diesel with his owner and one of his best friends, "Lexi".
Thanks to the community of Shelter Cove, this lost dog was reunited with his people and his four legged family, too.
Don't forget to contact Humboldt Paws Cause if animal is lost or if a stray is found.
———————————————————————–
Hat tip to Cheryl Antony for suggesting the title of this piece.