RV Loses Brakes on Shelter Cove Rd–One Helicoptered to Mercy in Redding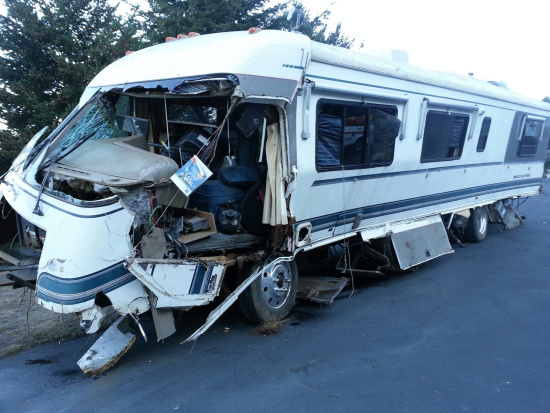 RV after having been towed. (Photos provided by Cheryl Antony the on duty officer for the Shelter Cove Volunteer Fire Dept.)
On Friday, emergency service crews received a report of a motorhome accident in Shelter Cove. The first information received spoke of trapped occupants and fire spreading to the surrounding vegetation. Multiple agencies rushed to help. When the Shelter Cove Volunteer Fire Dept. (SCVFD) arrived on the scene, it was quickly determined that there was no fire only the danger of fire.
According to Cheryl Antony, Public Information Officer for the SCVFD, "There were two people in the large motorhome which was pulling a jeep. Apparently, they ran out of brakes." She explained that the vehicle sped down Shelter Cove Rd. (See map below) and crossed Upper Pacific Dr. crashing into the embankment on the far side and flipping on to the top of the raised area and sliding its side.
The vehicle, explained Antony, "was leaking fuel. The husband picked up wife and brought her out of the car" because he was worried that the vehicle would catch on fire. Antony said the woman was injured and "helicoptered out" to Mercy Hospital in Redding. The man was treated and released at the scene.
"It was our busiest intersection so it was a mess for awhile," Antony explained
The couple, Antony said, had three dogs with them. Unfortunately, a young rust colored doberman called Diesel was missing after the accident. As of yesterday, the community was still searching for it.
Frank Wilson, Captain of the SCVFD explained that vehicles losing their brakes "seems to happen about once a year." He said that there used to be a sign on the way down posting recent accidents and warning drivers that they should gear down.
Antony agreed saying, "It is really steep right there. It happens to a lot of people there. They need to put it in really low, low, low gear."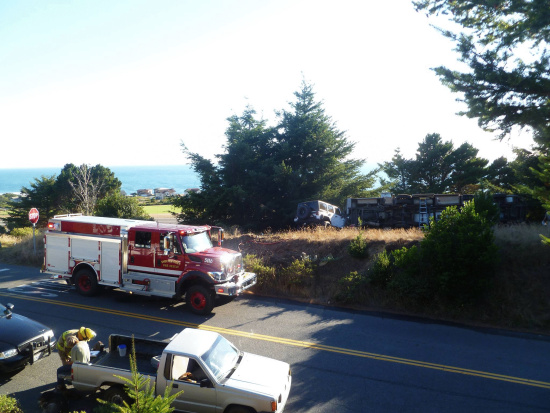 The male victim and two of his three dogs are being tended to in the lower left of this photo of the accident. Above can be seen the motorhome with the jeep. (Photo provided by Chet Edeline)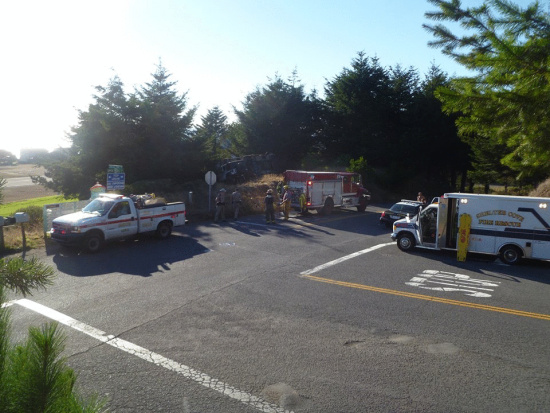 The intersection can clearly be seen in this photo of the accident scene provided by Chet Edeline. The motorhome is lying on its side in the shadow above the group of emergency workers on the far side of the road.
[googlemaps https://maps.google.com/maps?f=d&source=s_d&saddr=Shelter+Cove+Rd&daddr=Upper+Pacific+Dr&hl=en&geocode=FX7NYgIddNea-A%3BFQrKYgIdWs2a-A&aq=0&oq=Upp&sll=40.027023,-124.074655&sspn=0.006753,0.012993&t=h&mra=dme&mrsp=0&sz=17&ie=UTF8&ll=40.027023,-124.074655&spn=0.006753,0.012993&output=embed&w=425&h=350]